Turajiyama
History
Nature
Scenic spots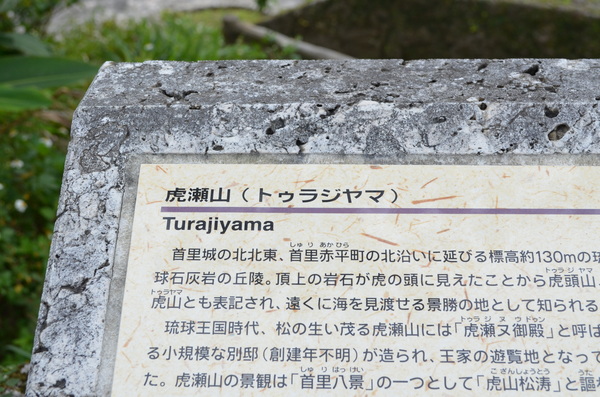 Turajiyama is a Ryukyu limestone hill with an elevation of 130 meters, located to the north-northeast of Shuri-jo Castle. It was referred to as "Turajiyama" (Tiger Head Hill), or "Turayama" (Tiger Hill) because the rock on the hilltop looked like a tiger's head. Turajiyama known as a picturesque place, as can see around the ocean in the distance.
Basic information
Address

903-0811

2-67 Akahira-cho Shuri Naha Okinawa Turaji Park

Business hours

Nothing in particular

Close day

Nothing in particular

Charge

Free

Parking

None

Access information

An 8-minute walk from the "Yui Rail" station Gibo.
Additional Information
Academic information

Turajiyama is a Ryukyu limestone hill with an elevation of 130 meters, located to the north-northeast of Shuri-jo Castle. It was referred to as "Turajiyama" (Tiger Head Hill), or "Turayama" (Tiger Hill) because the rock on the hilltop looked like a tiger's head. Turajiyama known as a picturesque place, as can see around the ocean in the distance.
In the Kingdom era, this was the site of Turaji-nu-udun, a second house for the royal family (year of construction unknown). Covered by lush pine trees, the landscape of Turajiyama hill was known as one of the eight best scenic sites of Shuri. Many poems were written about the Turajiyama, its pine trees and the moon.
After the clan prefecture system was abolished, Turanuji-udun had closed. In the Battle of Okinawa, Turajiyama pine tree forest had burnt down, and the eastern slope and peripheries of the hill were converted to residential lots. In 1982, the summit area was developed to create Torase Park.
The monument of poet Sounosuke Sato was placed in this park on the premises of the University of the Ryukyus (now Shuri castle) in 1959, but it was relocated here, in 1992, because of the reconstruction of Shuri Castle.

Quote

Naha City Museum of History