Ie udun-baka tombstone
Historic sites
History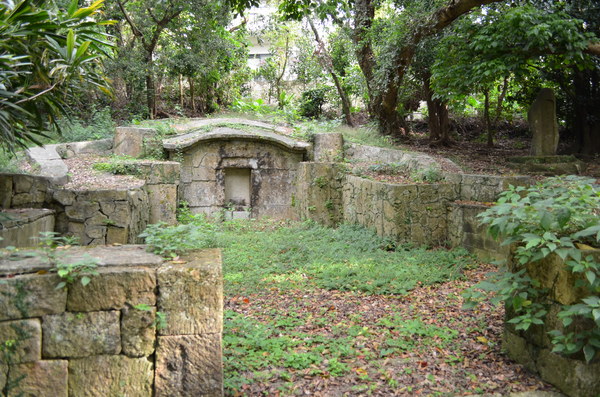 Ie udun-baka is the tombstone for a prestigious family, descendants in an unbroken line of the second son, Chogi of the 4th king Sho Shin in the second Sho dynasty. The tombstone itself is not large at all, but has a unique Okinawan style turtle-back tomb (kikkoubaka). Ie udun-baka is one of the oldest kikko-baka in Okinawa.
Basic information
Address

903-0804

1-62-4 Ishimine-cho Shuri Naha Okinawa

TEL

098-917-3501 (English is not supported)

Municipal cultural property division of Naha city

Business hours

Nothing in particular

Close day

Nothing in particular

Charge

Free

Parking

None

Access information

A 4-minute walk from the Ishimine Danchi Iriguchi bus stop.
Additional Information
Academic information

Cultural property(National designated architecture)
Designated date: December 1, 1999
Ie udun-baka is the tombstone for a prestigious family, descendants in an unbroken line of the second son, Chogi of the 4th king Sho Shin in the second Sho dynasty. Located in Ishimine-cho, Shuri, Ie udun-baka is about 11m wide, about 17m deep, and about an area of 140sq m for the tomb body, and a total area of 2,266 sq m, including the surrounding trees. According to "Shousei Kafu (the genealogy of the Sho Family)," Ie udun-baka was built in 1687 by the 5th generation, Choka. The tombstone itself is not large at all, but has an unique Okinawan style turtle-back tomb (kikkoubaka), Ie udun-baka is one of the oldest kikko-baka in Okinawa.
Ie udun-baka is a typical early kikkoubaka, featuring the lower "eye brow" part at the front, followed by the addition of a later kikkoubaka. The slope was opened up for a stone sepulcher, which is surrounded by retaining walls and stone walls. Ie udun-baka was constructed with cut Ryukyu limestone, and the main part was finished with white plaster. It has been said that the interior had an arched stone assembly called machi. The exterior has every element you can see in the modern style, such as yajomai, ushi, and ku, except hinpun.
Ie udun-baka is well-preserved and bears a high historical importance as a typical early kikkoubaka, whose construction year is known.

Quote

Naha Board of Education Cultural Heritage Division (2007) "Naha Cultural Property" Naha Board of Education