Remains of Ji'ibu-dunchi
History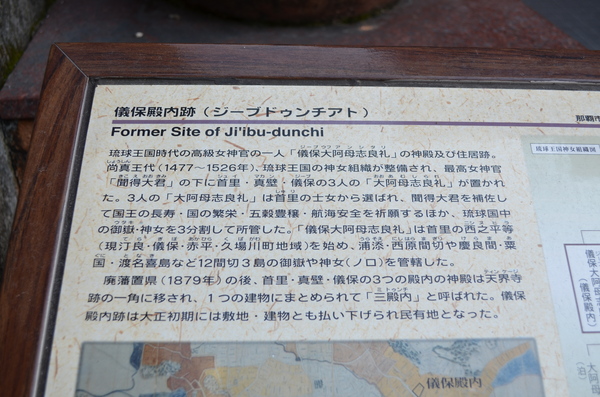 This is the former site of the shrine and residence of Ji'ibu Oamushirare, one of the high priestesses of the Ryukyu Kingdom.
Basic information
Address

903-0806

2-22-1 Tera-cho Shuri Naha Okinawa

Business hours

Nothing in particular

Close day

Nothing in particular

Charge

Free

Parking

None

Access information

Next to the Tera bus stop (On the Tera 2 cho-me side) located at the corner of the Lion's Mansion. ※A 5-minute walk from the monorail station Shuri.
Additional Information
Academic information

This is the former site of the shrine and residence of Ji'ibu Oamushirare, one of the high priestesses of the Ryukyu Kingdom.
In the age of King Sho Shin (1477~1526), three Oamushirare priestesses of Shui (Shuri), Makan (Makabe), and Ji'ibu (Gibo) were appointed beneath the supreme priestess Kikoe-okimi; the three Oamushirare priestesses were chosen from the people of Shuri, to assist her in prayers for the longevity of the King, the prosperity of the Kingdom, abundant harvests, and safe voyages, as well as dividing the responsibility of taking care of all the Utaki of the kingdom among the three. The "Oamushirare", starting with Shuri's Nishinohira (currently, the Tera, Gibo, Akahira, and Kubagawa-cho area), also including the Urasoe, Nishihara area, and Kerama, Aguni, Tonaki island's Utaki were managed by the priestesses (Noro).
Following the Kingdom's annexation to Japan, in 1879, the three shrines of Shui(Shuri), Makan (Makabe), and Ji'ibu (Gibo) were relocated to the premises of Tenkaiji(Tinke-ji) temple, and combined into a single shrine called Mitunchi. The land and building of Ji'ibu-dunchi were sold off in the early Taisho period and became privately owned.

Quote

Naha City Museum of History