Takadaira Hill
History
Nature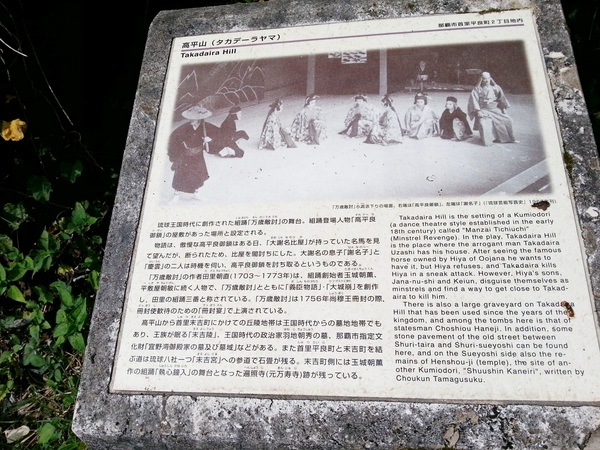 An original place of Kumiodori (traditional group dance) "Banzai Tekiuchi" (Minstrel Revenge). This place is thought to be where the Takadera uzashi (a character of Banzai Tekiuchi) residence was.
Basic information
Address

903-0803

2 Taira-cho Shuri Naha Okinawa

Business hours

Nothing in particular

Close day

Nothing in particular

Charge

Free

Parking

None

Access information

Heading towards Haebaru from Naha on the circular Route Kanjo 2, Turn left at the Gibo intersection. Head north on Prefectural Route 241, then turn left onto the road just before the Taira intersection. 100m from the mountain entrance.
Additional Information
Academic information

An original place of Kumiodori (traditional group dance) "Banzai Tekiuchi" (Minstrel Revenge). This place is thought to be where the Takadera uzashi (a character of Banzai Tekiuchi) residence was.

According to the story of "Manzai Tekiuchi", one day, an arrogant man "Takadera Uzashi" wanted a fine horse which "Ojananohiya" had. Takadera asked him to sell the fine horse, but Ojana refused the offer. Then, Takadera assassinated Hiya. Later on, sons of Ojana, "Jananosi" and "Keiun", bided their time and later killed (Tekiuchi=vengeance) Takadera. The author of "Banzai Tekiuchi" became the founder of Kumiodori, "Tamagusuku Choukun" (1703-1773) and "Heshikiya Choubin". He also wrote "Gishin Monogatari" (Moral and Trust Story) "Ufugusuku-kuzure" (Vengeance Story) with "Manzai Tekiuchi" and those stories called "Three-Tasato-Kumiodori". Manzai Tekiuchi performed at the Envoy's welcome reception of King Shoboku succession to the throne, in 1756.

The hilly area fromTakadera Hill to Sueyoshi-cho, Shuri, was the site of a Royal graveyard, "Sueyoshi mausoleum" since Kingdom era. Among the tombs there are the remains of statesman Choshu Haneji and the tombs and tomb area of the Ginowans which designated as a cultural property of Naha City. The road connected Taira-cho, Shuri and Sueyoshi-cho, Shuri, also led to Sueyoshi Shrine, which was one of the top eight shrines of Ryukyu; the original cobble-stone street is still visible. On the Sueyoshi side are also the remains of Henshou-ji (temple), the site of another Kumiodori, "Shushin Kaneiri" written by Choukun Tamagusuku.

Quote

Naha City Museum of History