The birthplace of Fuyu Iha
History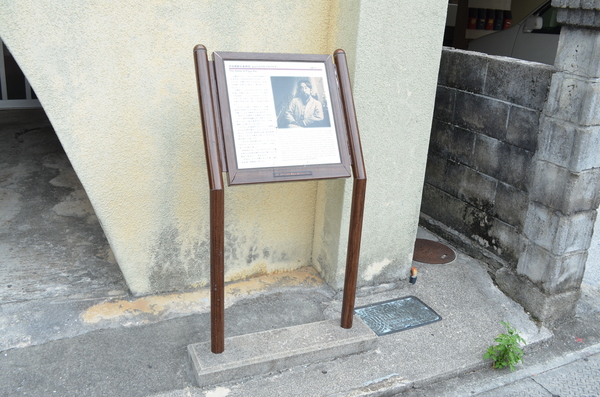 This is the birthplace of Fuyu Iha, a pioneer in the study of Okinawan history, folk customs, and culture.
Basic information
Address

900-0036

1-13-3 Nishi Naha Okinawa In front of a private home

Business hours

Nothing in particular

Close day

Nothing in particular

Charge

Free

Parking

None

Access information

A 2-minute walk from the Kume bus stop. A 7-minute walk from the monorail Asahibashi station.
Additional Information
Academic information

This is the birth house of Iha Fuyu, considered the father of Okinawan anthropology. He was born in 1876 at Nishi village, Naha, just before Ryukyu annexation. His family was from The Goujis who were Naha nobles, known at the time as a wealthy family. In 1895, when he attended Okinawa Prefectural Junior High School, the first of its kind in Okinawa, he was expelled because he was one of ringleaders to take issue with the abolition of the English department; as a result of his expulsion, he left Okinawa, for the Japanese mainland. After preparation, he entered Kyoto's third high school. In 1903, he entered Tokyo Imperial University (Presently: University of Tokyo) and majored in linguistics. In 1906, after graduating from university, he returned to Okinawa, and started to write large treatises about Okinawan life and culture, becoming a pioneer in Okinawan studies. In 1910, he became the first chief librarian of Okinawa Prefectural Library, where he began collecting data. Also, he was active spreading general education among the populace; for instance, his hygiene lecture was given over 300 times in various regions. In 1911, he summarized his treatises and published "Ko-Ryukyu" (Meaning: old Ryukyu)It became a monumental compendium of topics about Okinawan. After that, Fuyu fostered the establishment of Okinawan studies, along with Anko Majikina and Kanjyun Higashionna. In 1925. He left chief librarian position and moved to Tokyo, where he concentrated on his magnum opus "Omorosaushi", along with other activities and achievements. At 72 years of age, Fuyu died from an illness on 13th August 1947, in Tokyo. During the last few years of his life, he was concerned and anxious about the fate of his birthplace, Okinawa, which had become occupied and ruled by the US military.

Iha Fuyu was a primary researcher who demystified superstition and helped to bring Okinawa into modern times.

Quote

Naha City Museum of History