Tsuboya Climbing Kiln for Arayachi Ware and its Stone Masonry
History
Traditional craft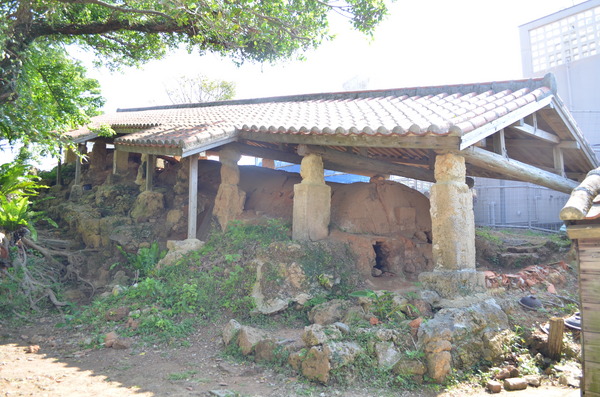 There is a climbing kiln mainly for baking arayachi (unglazed) ware and stone masonry protecting the kiln in 1-chome, Tsuboya. This kiln is the only existing arayachi kiln in Tsuboya, the home of yachimun (pottery). It is called Fenukama (south kiln), and was used for baking sake jars, water jars, and zushigame (burial urns).
Basic information
Address

902-0065

1-86 Tsuboya Naha Okinawa

TEL

098-917-3501 (English is not supported)

Municipal cultural property division of Naha city

Business hours

Nothing in particular

Close day

Nothing in particular

Charge

Nothing in particular

Parking

Nothing in particular

Access information

About an 11-minute walk from the Yui Rail Makishi station.
Additional Information
Academic information

Cultural property(Prefectural designated architecture)
Designated Date: March 19, 1973
There is a climbing kiln mainly for baking arayachi (unglazed) ware and stone masonry protecting the kiln in 1-chome, Tsuboya. This kiln is the only existing arayachi kiln in Tsuboya, the home of yachimun (pottery). It is called Fenukama (south kiln), and was used for baking sake jars, water jars, and zushigame (burial urns).
Fenukama is a kiln that is about 20m long, about 8m wide, made of clay on the slope, which is shaped like kamaboko (fish cake). The inside of the kiln is tunnel-shaped with no partitions and the fire box is in the lower part of the kiln. The kiln is covered with a red-tile roof, which is supported by stone pillars and pillars made of piles of several stones to prevent fire. You can see masonry retaining walls surrounding the climbing kiln to protect the kiln.
It is said that the home of pottery "Tsuboya" had started in 1682 when the Chibana-kiln in Misato (presently Okinawa City), the Takaraguchi-kiln in Shuri, and the Wakuta-kiln around Izumizaki were gathered and united into one as "Tsuboya-mura." They say that the climbing kiln for Arayachi ware was built around that time. This is a very precious kiln.

Quote

Naha Board of Education Cultural Heritage Division (2007) "Naha cultural property" Naha Board of Education