Uchikanagusuku Sacred Grove
Historic sites
History
Nature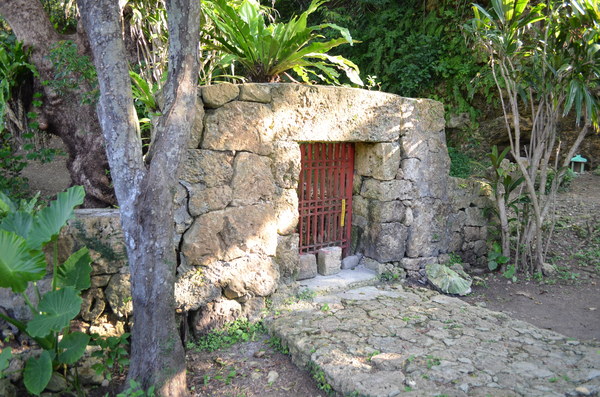 This sacred grove's oldest record goes back to the 12th century. An old book called "Ryukyukoku Yuraiki (The Records of the Origin of the Ryukyu Kingdom)" recorded this sacred grove. It written about in a paragraph of Chanagi Village (Present name: Matsukawa) (1713). Makabe-Oamoshirarei was serving this sacred grove, and this sacred grove's God's name, known as Kaneno miibe or Mojiyorukiyono-Oukami. This sacred grove's size is about 9㎡, surrounded by a stone wall. There is a stone gate with lintel stone top and is located in the front side of the sacred grove. There are tall Bishop wood (Bischofia javanica. Japanese name is Akagi) trees and three ritual stones are placed under the tree. This sacred grove has traditional local ritual style. There is a smaller grove placed to the west side of this sacred grove, and this smaller grove telling the Legend of Mu-chi. This sacred grove has been registered as a Tangible Local Cultural Asset of the city.
Basic information
Address

903-0815

20 3-18 Kinjo-cho Shuri Naha Okinawa

TEL

098-917-3501 (English is not supported)

Municipal cultural property division of Naha city

Business hours

Nothing in particular.

Close day

Nothing in particular.

Charge

Free

Parking

Paid parking space is available in neighborhood.

Access information

Take the "Yui Rail" from Naha Airport, get off at Shuri station. A 19-minute walk.
Take #4 or #15 bus, get off at Ishidatami (cobbled path) bus stop. A 10-minute walk.
Additional Information
Academic information

Cultural property(Municipal designated tangible folk cultural property)
Designated date: November 14, 1979
This sacred grove's oldest record is back to the 12th century. An old book called "Ryukyukoku Yuraiki (The Records of the Origin of the Ryukyu Kingdom)"recorded this sacred grove. It is written about in a paragraph of Chanagi Village (Present name: Matsukawa) (1713). Makabe-Oamoshirarei was serving this sacred grove and, this sacred grove's God's name known as Kaneno miibe or Mojiyorukiyono-Oukami. This sacred grove's size is about 9㎡, surrounded by a stone wall. There is a stone gate with lintel stone top, it located in the frontside of the sacred grove. There are tall Bishop wood (Bischofia javanica. Japanese name is Akagi) trees and three ritual stones are placed under the tree. This sacred grove has traditional local ritual style.

And, there are a large grove located in the east, and a small grove located in the west. The small grove introduces an event called "Onimuchii-time". This event is annual and held on December 8th of the lunar calendar. This event was recorded in "Ryukyukoku Yuraiki (The Records of the Origin of the Ryukyu Kingdom)." Villagers from Uchikanagusuku village and Matsukawa village held a festival on the date of "Hatsukae" and the next "Tsukae" day in December and homemade Muchii (Shell ginger flavored rice cake) was served for the sacred grove.

Quote

Naha Board of Education Cultural Heritage Division (2007) "Naha Cultural Property" Naha Board of Education