New Edition Miebashi-hi Monument
History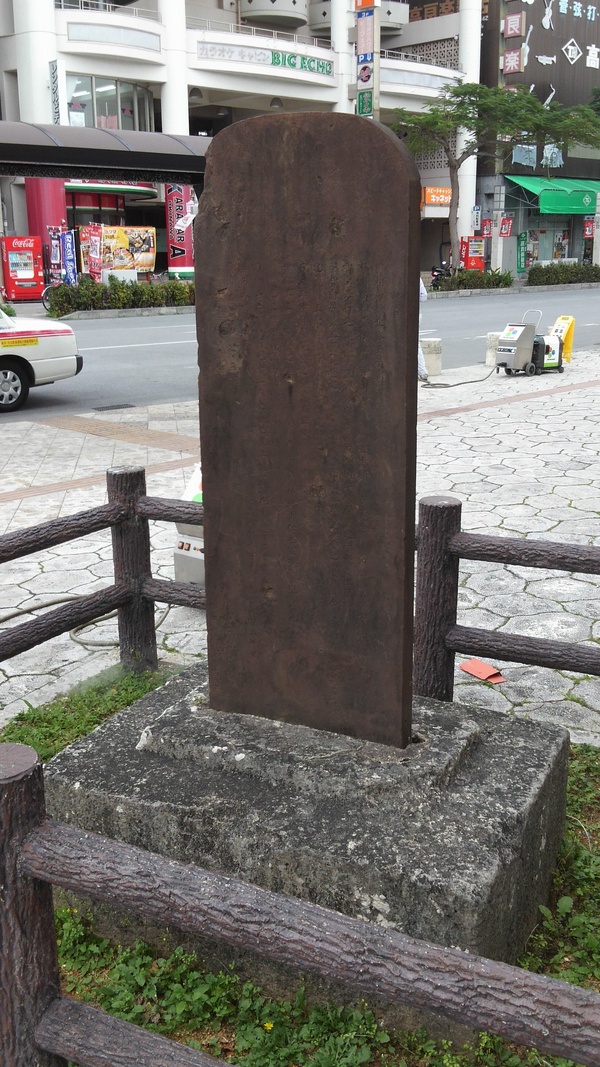 In the past, Naha consisted of several islets, called "ukijima (floating islands)" For that reason, the transportation to Shuri was inconvenient. In 1452, King Sho Kinpuku gave a minister, Kaiki an order to build about a 1km road in the sea from Asato to Ibegama (presently around 1-chome, Matsuyama). Between Asato and Makishi, three bridges were said to have been constructed. Miebashi Bridge is one of them.
Basic information
Address

900-0013

1-951 Makishi Naha Okinawa

TEL

098-917-3501 (English is not supported)

Municipal cultural property division of Naha city

Business hours

Nothing in particular

Close day

Nothing in particular

Charge

Free

Parking

None

Access information

A 1-minute walk from Yui Rail Miebashi station.
Additional Information
Academic information

Cultural property(Municipal designated art craft)
Designated date: April 8, 1977
In the past, Naha consisted of several islets, called "ukijima (floating islands)" For that reason, the transportation to Shuri was inconvenient. In 1452, King Sho Kinpuku gave a minister, Kaiki an order to build about a 1km road in the sea from Asato to Ibegama (presently around 1-chome, Matsuyama) for the purpose of greeting Chinese investiture envoys. Between Asato and Makishi, three bridges were said to have been constructed. Miebashi Bridge is one of them.
The more Naha developed, the shallower the river became and the narrower Miebashi became. People needed to clean the river and replace the bridge, so the construction was conducted from October 8, 1735 to February 6, 1736. The process was recorded on the New Edition Miebashi-hi Monument. Seigidai Fuyotaiso prepared an inscription and Touji Youbunhin wrote the inscription.
Miebashi Bridge was restored in 1892, but destroyed during the Battle of Okinawa; only the monument has been kept in the original form and was stored at a private home and later moved to the present location.

Quote

Naha Board of Education Cultural Heritage Division (2007) "Naha Cultural Property" Naha Board of Education