Remains of Ufumi-udun
History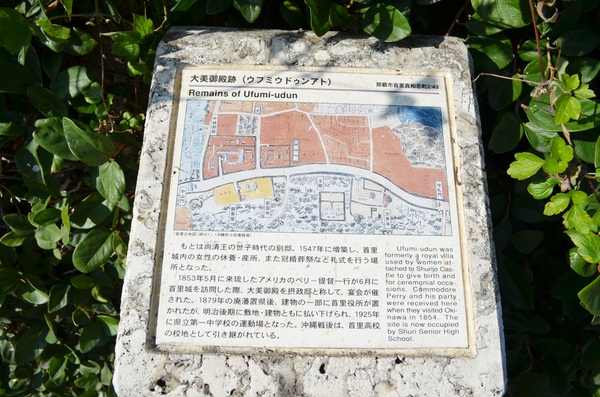 Ufumi-udun was formerly a royal villa. The building was extended in 1547 and became a place to take rest and to give birth for women in Shuri-jo Castle. It is also used for ceremonial occasions.
Basic information
Address

903-0816

2-43 Shuri Mawashi-cho Naha Okinawa Samukawa-dori Street, on the Prefectural Shuri High School fence side.

Business hours

Nothing in particular

Close day

Nothing in particular

Charge

Free

Parking

None

Access information

A 3-minute walk from the Shurijo-mae bus stop near Shuri Senior High School's main gate.
Additional Information
Academic information

Ufumi-udun was formerly a royal villa. The building was extended in 1547 and became a place to take rest and to give birth for women in Shuri-jo Castle. It is also used for ceremonial occasions.
Commodore Perry and his party were received here when they visited Okinawa, in 1853, and a banquet was held in the Ufumi-udun. After the domain system was abolished in 1879, a Shuri government office was placed in the part of the building, but both the site and the building were sold off in the late Meiji period. It became the playground of the Preternatural Dai-ichi Junior High School, in 1925. After the Battle of Okinawa, the site is now occupied by Shuri Senior High School.

Quote

Naha City Museum of History