Old Enkaku-ji Hojo Bridge
Historic sites
History
Shuri Castle Park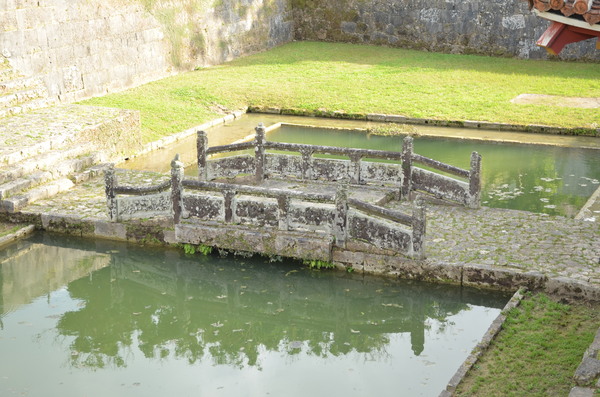 The Hojo Bridge crosses over the Hojo Pond built between the main gate and the temple gate of the former Enkaku Temple. The Chinese inscriptions on the center pillar of the temple gate says, "the Hojo Bridge was completed during the Ming Dynasty, in the 11th year of the Koji Era (1498)." From the inscriptions, we can assume that the Hojo Bridge was built a little later than the Enkaku Temple.
Basic information
Address

902-0812

2-1 Tonokura-cho Shuri Naha Okinawa In Shuri Castle Park

Business hours

Nothing in particular

Close day

Nothing in particular

Charge

Free

Parking

Paid parking is available.

Access information

A 2-minute walk from the Ryutan-dori bus stop.
Additional Information
Academic information

Designated date: May 15, 1972.
The Hojo Bridge crosses over the Hojo Pond built between the main gate and the temple gate of the former Enkaku Temple. The rectangular Hojo Pond was designed after similar ponds were found at other Zen temples and Ryukyu limestone is arranged around the pond in an ashlar style. According to the Chinese inscriptions on the center pillar of the temple gate, the Hojo Bridge is said to have been built during the Ming Dynasty, in the 11th year of the Koji Era (1498), a little later than the completion date of the Enkaku Temple. Made from 4 pieces of rectangular Ryukyu limestone placed in a simple style, the Hojo Bridge features railings made with diabase rock and paneling with elaborate sculpture. This diabase rock is commonly called the blue stone and said to be brought from China because Okinawa does not produce it. Also, from the afore-mentioned inscriptions on the temple gate, it is known that the Hojo Bridge was built in China under the supervision of Ryono and Chingi. The bridge is also a historically valuable structure that gives us some idea of how prosperous Ryukyu was through trade with China and other countries in those days.

Note:
Diabase rock is one type of igneous rocks, consisting of plagioclase and pyroxene. Fine and coarse grains are packed tightly, creating a fine texture with a blue-green color. It is beautiful stone suitable for viscous work and produced in abundance in the Fujian Province of China. It is not produced much in Okinawa.

Quote

Naha Board of Education Cultural Heritage Division (2007) "Naha Cultural Property" Naha Board of Education