Miyamo-Haruishifu
History
Nature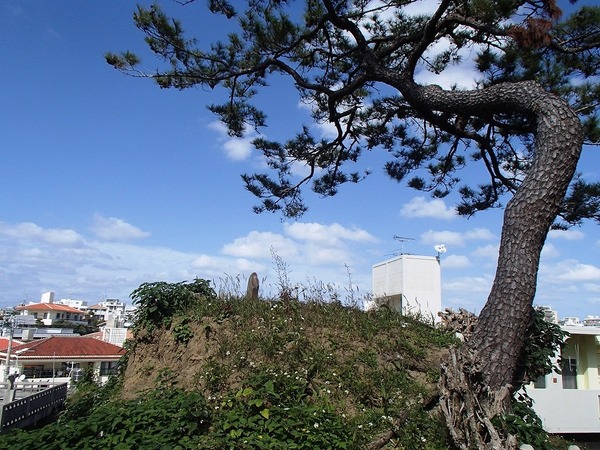 Miya Mo was a small hill, so when there was misfortune in the village, the bell was rung to let everyone know. The stone there is engraved with the characters 「ふ くし原(バル)」[Fu Kushibaru(Baru)].
Basic information
Address

901-0146

2-17-9 Gushi Naha Okinawa Next to the Uehara House

Business hours

Nothing in particular

Close day

Nothing in particular

Charge

Free

Parking

None

Access information

About 1.7km from "Yui Rail" Akamine Station. About a 22-minute walk.
Take the bus route No. 56, or No. 89, and get off at Takara bus stop. About a 7-minute walk.
Additional Information
Academic information

Near the Gushi Jichikaikan(self-governing hall), there is a narrow path up the hill, and on the side of the stone wall that is hilly, on the embankment, grows a pine tree. This is the Miya Mo. Rough stones called Haruishi have been set up there, the rough stones were placed on the bank. It is a valuable place where the 「印部土手(Shirubido-uti)」remains. The rough stones were used for measurement, as a benchmark, and were very valuable as markers during the Ryukyu Kingdom era.

Quote

Rekishi Sanpo Map Kaisetsu-hen, Yui Rail Eki Shuhen Monogatari