Site of the Matsuzakibaba
History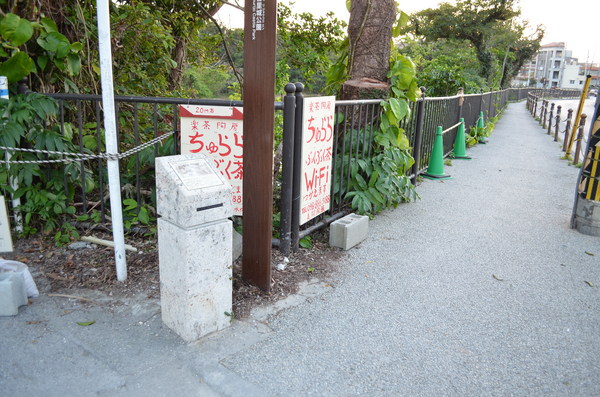 On the protruding area of Ryutan pond, pine trees were planted, from which the name Matsuzaki came. (Hence the name, which also referred to part of the road leading from Shuri Castle towards Urasoe).
Basic information
Address

903-0812

1-6 Tonokura-cho Shuri Naha Okinawa

Business hours

Nothing in particular

Close day

Nothing in particular

Charge

Free

Parking

None

Access information

A 1-minute walk from the Tonokura bus stop. Along the Ryutan-dori.
Additional Information
Academic information

On the protruding area of Ryutan pond, pine trees were planted, from which the name Matsuzaki came. (Hence the name, which also referred to part of the road leading from Shuri Castle towards Urasoe).
At this site in 1801, (currently, the Okinawa Prefectural University of Arts) when "Kokugaku" (the highest educational institution of the Kingdom of the Ryukyus) was established here, trees were planted along the road leading up to Matsuzaki.
On the occasion of Chinese envoy visits to Ryukyu Choyoen, banquets were held at this site, and "sajiki-seki" (elevated wooden seats) were laid out for viewing the "Haryusen" dragon boat racing. Stonewall remains of two previous institutions are on this site, namely the Kokugaku, (the highest educational institution of the Kingdom, established in 1801), and a Confucian shrine (established in 1837), were identified, in 1989, and the remains were designated as a cultural heritage site and historical landmark of the prefecture.

Quote

Naha City Museum of History