Historical Sites in the Vicinity of Aijo-Ufumichi
History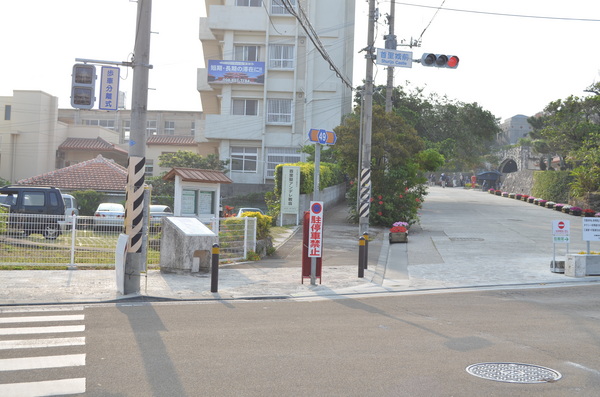 When it was Ryukyu Kingdom era, The street from the ocean entrance "Naha Port" through Soungen-ji (Sogen temple) to Shuri castle was the first class public road of the Kingdom. Especially, the wide road called "Aijou-ufumichi" was center of between Chuzan gate(Chuzan-mon) as known as "Simunu-aijou" and Shreimon (Shurei gate) as known as "uinu-aijou".
Basic information
Address

903-0816

1-9 Mawashi-cho Shuri Naha Okinawa In front of St. Andrew's Church

Business hours

Nothing in particular

Close day

Nothing in particular

Charge

Free

Parking

None

Access information

A 1-minute walk from the Shurijo-mae bus stop.
Additional Information
Academic information

When it was Ryukyu Kingdom era, The street from the ocean entrance "Naha Port" through Soungen-ji (Sogen temple) to Shuri Castle was the first class public road of the Kingdom. Especially, the wide road called "Aijou-ufumichi" was center of between Chuzan gate(Chuzan-mon) as known as "Simunu-aijou" and Shreimon (Shurei gate) as known as "uinu-aijou". According to "Shuri-old map" which published in early 18th century, the neighbourhood of Aijou-ufumichi was formed with the landscape appropriate for capital town of the Kingdom. There were many governmental facilites as following; Nakagushiku-udun as prince's palace, Oomi-udun as Ooiebetsuryou (大家別寮), Tama-udun as Imperial mausoleum, Okyakuya (御客屋), Tenkai-ji Tenkai temple) and, Yasukuni-ji (Yasukuni temple). Once upon a time, an event as known "Aijou ootsuna"(aijou Big rope)(tug of war), it held once one king lifetime and, annual new yeaer's day event "Horse game"(uma-shoubu)(equestrianism) were held at Aijou-ufumichi. The historic sites in neighbourhood of Aijou-ufumichi are Royal grave's restoration and Shuri castle's reconstruction and maintenance are in progress.

■Chuzan-mon (gate) remains
Chuzanmon was the first Boumon (gateway to the town) of the royal capital Shuri. It stood on the west end of Aijou-ufumichi. It known as "Shimuni-Aijou "(lower Aijou) or," shimun-toui" (lower torii). It is a Chinese pailou style (pailou is feng sui method) gate and said it was built in 1428. It is the same size and same design as restored Shurei-mon. (Shurei gate). The name of Chizanmon's origin is the calligraphy letters "中山" (chuzan) which dedicated by king Shohashi's Chinese envoy Sai-zan (visited Ryukyu in 1425). They framed the calligraphy and put it at the gates; then it came to be called Chuzan-mon. After Clan prefecture system abolished (1879), it became superannuated then, disposed and removed in May 1908.

■Remains of Makadunchi
This is remains of "Makan-omushiarare" shrine and her residence. She was one of high ranked priestesses in Ryukyu Kingdom era. When the time of King Shoshin (1477-1526) Noro (Okinawan mediums) organization established. Kikoeookimi was the highest priestess and three high ranked priestess called Oomushiarare were assigned. Those priestess were Makandu, Shuri and, Gibo then, divided all Ryukyu parts Noros in three and let three priestess managed them After clan prefecture system abolished, Makandunchi, Shuridunchi and, Gibodunchi, those three shrines were united then, called Mitunchi (Three shrines) and moved to corner of Tenkai-ji (Temple); however, it was destroyed in the Battle of Okinawa.

■Aijou-chinmaasa
Chinmaasa means 'piled up stones in a circle'.
According to an envoy's record "Chuzan-densinroku", There were Sago palm inside the Aijou-chinmaasa" stonewall. This chinmaasa used guideposts between Naha and Shuri. When passing this guidepost, you can see Chuzan-mon and Aijou-ufumichi spread out in front view. After the Battle of Okinawa, this chinmaasa was taken to a private housing site; today a patial chinmaasa is still present.

■Kyou-Ahagon-zuka (mound)
The mound said that Jikki Ahagon is buried here. In Kasei period (1522-1566), The government sent Ahagon to Kyoto to prepare a treasured sword called "Jiganemaru" which was a gift from Miyako Island to the Ryukyu King. After he returned to Okinawa, he found out that the treasured sword had been replaced with a fake replica, he went to Kyoto again. He spent three years to find the treasured sword and then gained fame as a result.

■ Minchira-utaki (sacred grove)
The sacred grove enshrines an upright stone.
The common name for 'sacred grove' was Mezuradake, and it was one of Makan-oomushiarare's jurisdictive groves. The foundation of this ancient place of worship lasted until the 10th Showa period. The old place of worship was established by King Shotei (enthornment in 1669) when he was a prince.

■ Uchaku-ya remains
Ukyaku-ya was a waiting place for Satsuma clan's active magistrates when they were visiting Shuri Castle. Establishment year is unknown. The land size was about 451 tsubo. (1490㎡) A party of magistrates waited here for the guide and visited Shuri Castle. Right after the clan prefecture system was abolished, this site was turned into the Shuri Police Department. In 1890, Shuri ordinary elementary school's building was built; however, in 1912, the school was moved to inside Shuri Castle and became Shuri Ordinary Middle School. After that the site turned into a vacant land.

■Ankoku-ji (Ankoku-temple)
Temple of Rinzai-shu.(Rinzai denomination) San-gou (Official temple's name) was Taiheizan. King Shoutaikyu established this temple during the Kettai time, (1450-1456) to pray for successive kings to rest in peace and for the present king's good health. The founder of temple was a Zen monk called KizanShuyouzenji who came from Zhejiang, China. Later this temple became a branch of Tenkai-ji (Tenkai-temple). One theory, according to Ankokuji, suggests that such temples were built all over Japan (system of a temple for each country (clan) during the Muromachi era. The temple was moved to its present location, in 1674. The temple burned down during the Battle of Okinawa; however, it was reconstructed after the war.

■Remains of former Nakagusuku-udun
It was a former mansion of the Ryukyu king's children. This mansion might have been built during the time of King Shoho (1621-1640); the was mansion was moved to the north side of Ryutan, in 1975. The original site became "Shimnu Yakuen" (herb farm). After the clan prefecture system was abolished, in 1891, the site became the Okinawa Ordinary Junior High School (later Okinawa prefecture's first junior high school); then, after the war, it became the land of Shuri High School.

■ Remains of Ufumi-udun
It used to be an annex of King Shousei, when he was a prince. In 1547, the facility was enlarged and became a maternity recuperation facility for the women of Shuri Castle; as well, it was used on ceremonial occasions. At the balcony which faced to Aijou-ufumichi, people watched tug of war and Uma shoubu, the event which held at Ufumichi or, on New year's day, from the street, nobles (Samurai class) handed their name cards to successor and prince at Sakuraue (桜上 might mean Udun?) When American Commandore Perry's party visited Shuri Castle, in 1854, the reception party was held at Ufumi-udun. Right after the clan prefecture system abolished, Shuri office was established at the corner of the udun (moved out later); however, the site and facility were closed, in late Meiji era. In 1925, it became Okinawa's first junior high school playground.

■Tama-udun
The mausoleumof the second Shou-shi descendants. It was established to enclose the father, king Shouen's mausoleum in King Shoushin time (1477-1526). The date of 1501 is engraved on the Tama-udun gravestone which stood in front of Tama-udun. The gravestone is the oldest Kana-writing epitaph in Okinawa prefecture. It prescribes the person who should be buried in Tama-udun. Tama-udun became an encampment of the Japanese Army and was seriously damage. After the war, the mausoleum was reconstructed.

■Remains of Tenkai-temple (Tinkei-ji)
Temple of Rinzai-shu.(Rinzai denomination) San-gou (Official temple's name) was Myoukouzan. Established in Keitai time (1450-1456) while King Shoutaikyu reigned. The temple founder was Keiin-zenshi (Zen master). Later on, it was counted as one of top three temples with Enkaku-ji and, Tennou-ji. After the clan prefecture system was abolished, the temple was closed and the place of worship place mitunchi was built on Tinkei-ji's land; however, it burnt down during the Battle of Okinawa. Today, only Tenkai-ji well, built in 1697, survives. There were pine tree forests called "Tinkei-ji maachu" on the east side of Tinkei-ji. But the pine tree forest became the site of Shuri Elementary School (later Shuri Middle School which was moved to Shuri Castle, in 1912) and the teaching school's memorial playgrounds.

■Remains of Usekujo (craft factory)
Temple of Rinzai-shu.(Rinzai denomination) San-gou (Official temple's name) was Myoukouzan. Established in Keitai time (1450-1456) while King Shoutaikyu reigned. The temple founder was Keiin-zenshi (Zen master). Later on, it was counted as one of top three temples with Enkaku-ji and, Tennou-ji. After the clan prefecture system was abolished, the temple was closed and the place of worship place mitunchi was built on Tinkei-ji's land; however, it burnt down during the Battle of Okinawa. Today, only Tenkai-ji well, built in 1697, survives. There were pine tree forests called "Tinkei-ji maachu" on the east side of Tinkei-ji. But the pine tree forest became the site of Shuri Elementary School (later Shuri Middle School which was moved to Shuri Castle, in 1912) and the teaching school's memorial playgrounds.

■Shurei-mon (Shurei gate)
Shurei-mon was the second Boumon (gateway to downtown) of Royal Capital Shuri. It stood on at east end of Aijou-ufumichi. It was known as "Uinu-aijou" (upper Aijou) or, "uin tui" (upper Torii). Th establishment year is unknown, but it is thought to have been built during King Shosei's time (1527-1555) It is the same size and same pailou design as Chuzan-mon, with gate already completed. At first, the gate had a framed letter that said "Taiken" and, "Shuri"; therefore, the gate was called "Taiken-mon" or, "Shuri-mon" After 1663, the framed letter said: "Shurei-no-hou" (meaning "Shurei country"; then it came to be called "Shurei-mon" The gate was designated as a national treasure, in 1933; however, it burnt down during the Battle of Okinawa. In 1959, it was reconstructed quickly as a symbol of Ryukyu Kingdom era.

Quote

Naha City Museum of History