Saion Ufu Shisa
Traditional craft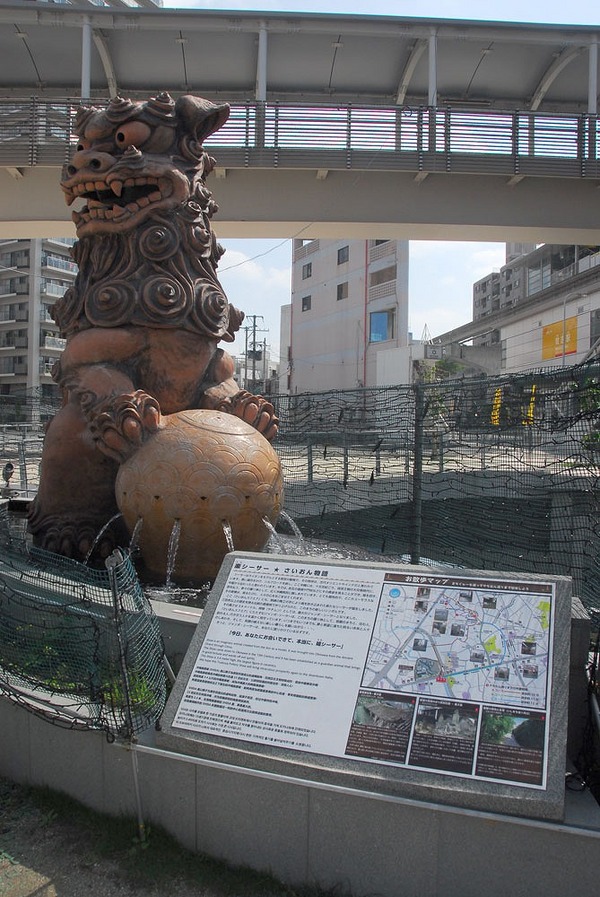 Completed in September 2011. This huge shisa is made of tsuboya pottery with a height of 3.4m and weighs 3 tons. Tsuboya craftsmen took 5 months to make it. Tsuboya elementary school children named it after the 「Saion Square」 which opened on July 8th, 2011. 「Ufu」means 「Big」in Okinawan dialect. Since it sounds similar to the sound of laughter, a heart is drawn on the signboard with the name. The huge shisa is illuminated at night which makes the shisa more powerful for keeping devils away. 「Saion 」was the name of the prime minister in the Ryukyu Kingdom in the 18th century. His name was also given to a bridge on Kokusai Street for his efforts in maintaining the Asato River in this area.
Basic information
Address

902-0067

3-272-5 Makishi Naha Okinawa In front of the monorail Makishi station.

Business hours

Nothing in particular

Close day

Nothing in particular

Charge

Free

Parking

Toll parking in the neighborhood.

Access information

Take the「Yui Rail」from Naha Airport and get off at the Makishi station. A 1-minute walk. For local buses, (#1,#5,#9,#15,#97) get off at Asato bus stop. A 1-minute walk.
Additional Information
Barrier-free

車イス駐車場

車イス用トイレ

スロープ

Academic information

Shisa are fictional animals that were modeled after the ancient Oriental lion found in rural areas and later transmitted as a Shishi (lion-dog), in China; that lion-dog motif was passed on to Ryukyu. Komainu were introduced from the Korean peninsula.

Quote

Naha Machi Ma~i