Naha City Tsuboya Pottery Museum
Historic sites
History
Museum
Traditional craft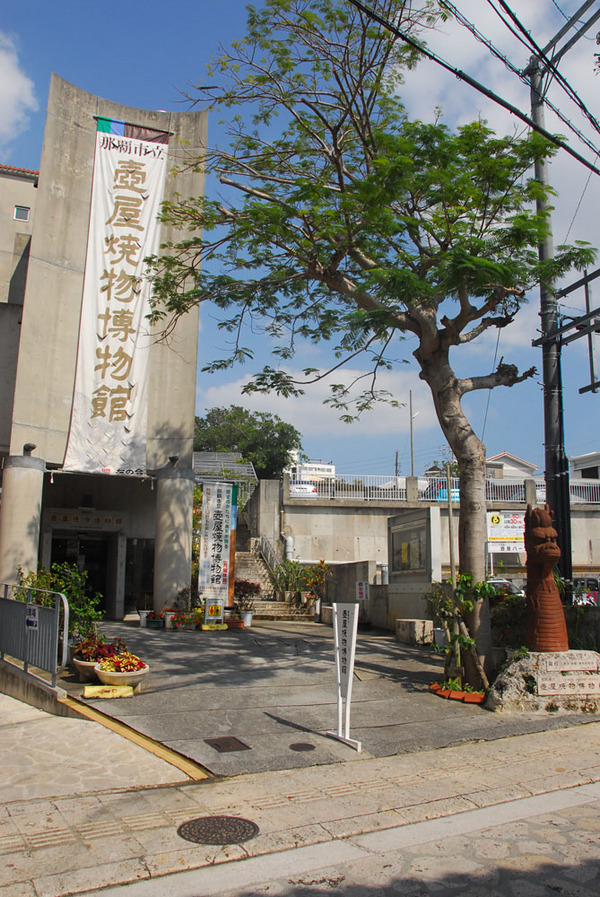 Located on Tsuboya Yachimun Street, it is the only pottery museum in the prefecture. Learn more about pottery in Okinawa its history, and the manufacturing techniques of the Tsuboya-yaki style. The exhibits range from the oldest earthenware to the words of modern potters.
The Nishi-nu-kama kiln that was discovered during the construction of the museum has been preserved and is displayed in its original state.
Watch old footage of life in Tsuboya, or listen to the thoughts of potters at the video theater. Many seasonal exhibitions are held in the gallery, which can also be rented for special events
Behind the museum on Nishinume Square is the Wakuta kiln which was excavated when the prefectural government office was built.
Basic information
Address

902-0065

Okinawa Naha Tsuboya 1-9-32

TEL

098-862-3761 (English is not supported)

Business hours

Hours: 10:00 to 18:00 (last admission 17:30)

Close day

Closed on Mondays and from Dec.28 to Jan. 4
※ May close for reorganization of collections

Charge

Admission:
Individual: ¥350 (temporarily free for students and children)
Groups (20 people and more): ¥280
※ Other discounts available, please ask.

Parking

No parking

Access information

10 minutes from Makishi Station. 5 minutes from Tsuboya bus stop.

URL
Additional Information
Barrier-free

車イス用トイレ

スロープ

Academic information

The direction "north" is pronounced Nishi in Okinawan dialect. There was a Nishinu kama (a kiln of nishi) at this place but it was destroyed in the Taisho era. Later, a Japanese style shrine for the God of the land (Totikun) was set up and named 「Nishinume」. Not only craftsmen and their families but some people from other areas also come to pray for good health.

Quote

Website of Naha City Tsuboya Pottery Museum