Naha City Tsuboya Pottery Museum
Historic sites
History
Museum
Traditional craft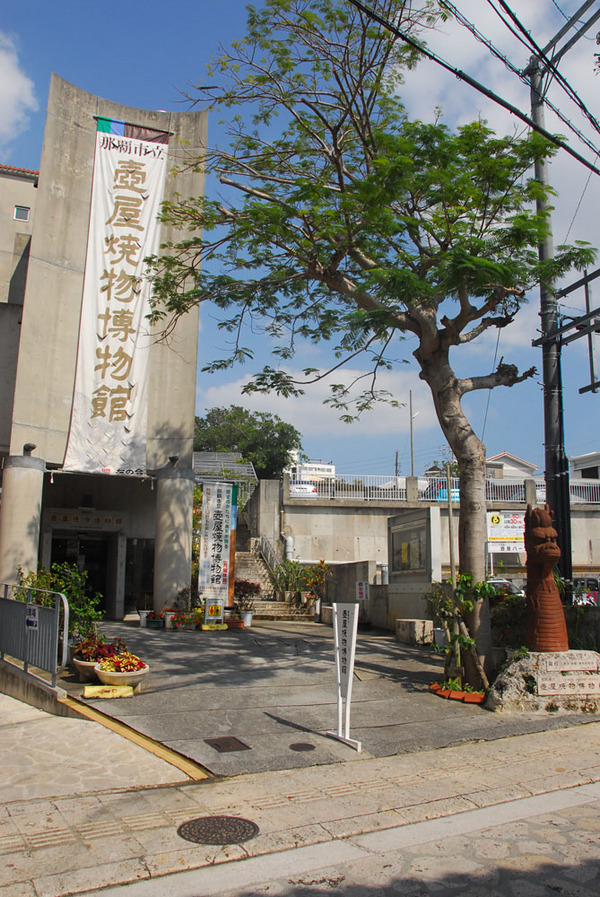 This museum is related to its neighbor, Tsuboya yachimun (pottery) Street. There are clear explanations of the basic history of pottery and production methods. The techniques of Tsuboya pottery are shown and some of the finest of Tsuboya craftsmen's works are exhibited. There is an exhibition of the Nishinu kiln which was discovered during the museum construction and now is exhibited at its original site in the building. The museum theater has a big screen showing the life-style of old Tsuboya and conveys the craftsmen's passion for their pottery. Various temporary exhibitions related to pottery are also held. There is an exhibition at the 「Nishinume plaza」behind the museum of the flat kiln, in Wakuta which was excavated during the construction of the main Okinawa prefectural office building.
Basic information
Address

902-0065

1-9-32 Tsuboya Naha Okinawa

TEL

098-862-3761 (English is not supported)

Business hours

10:00 ~18:00

Close day

Monday・New Year Holidays (Dec 28 ~Jan 4) The museum is open on Monday (if a national holiday falls on Monday, it is closed the next day) and during Golden Week.

Charge

General ¥350, High school and college students ¥210, Under junior high school ¥105, General group ¥280, High school and college students ¥168, Under junior high school ¥84, *A group should be 20 or more.
20% off (same price as a group) upon showing the ticket of Naha Machima-i (effective for a week after you have joined), Okinawa toshi monorail one day free ticket (within effective date).

Parking

None

Access information

Take the「Yui rail」 from Naha airport and get off at Makishi station. A 12-minute walk. For buses (#17,#55,#112), get off at the Tsuboya bus stop. A 5 minute walk.

URL
Additional Information
Barrier-free

車イス用トイレ

スロープ

Academic information

The direction "north" is pronounced Nishi in Okinawan dialect. There was a Nishinu kama (a kiln of nishi) at this place but it was destroyed in the Taisho era. Later, a Japanese style shrine for the God of the land (Totikun) was set up and named 「Nishinume」. Not only craftsmen and their families but some people from other areas also come to pray for good health.

Quote

Naha Machima-i, Naha City Tsuboya Potery Museum HP, Sign board at the site.