Tomari International Cemetery
Historic sites
History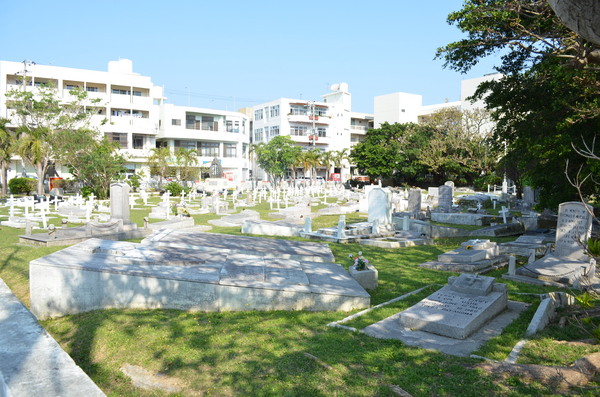 Tomari International Cemetery is located near the north bank of Tomari Port. Old tombstones for foreigners (commonly calle Uranda-baka) were at the back on the right side from the entrance. A total of 22 foreigners from 6 countries, including Chinese and Americans, were buried there.
Basic information
Address

900-0012

3-20-1 Tomari Naha Okinawa

Business hours

Nothing in particular

Close day

Nothing in particular

Charge

Free

Parking

None

Access information

A 5-minute walk from the Tomari Takahashi bus stop.
Additional Information
Academic information

Designated Date: August 10, 1987
Tomari International Cemetery is located near the north bank of Tomari Port. Old tombstones for foreigners (commonly called Uranda-baka) were at the back on the right side from the entrance. A total of 22 foreigners from 6 countries, including Chinese and Americans, were buried there. The oldest tombstone here is for a Chinese person who was buried in 1718. Also a British sailor who died after a long voyage, sailors who rode on the ship with Commodore Mathew Perry, and a Catholic priest, Father Matthew Adnet were buried here. Tomari International Cemetery is an important spot as a historical site to learn the exchange between the Ryukyu Kingdom and foreign countries from the 18th Century.

Quote

Naha Board of Education Cultural Heritage Division (2007) "Naha Cultural Property" Naha Board of Education