Ben-ga-Dake Park
Historic sites
History
Temples and shrines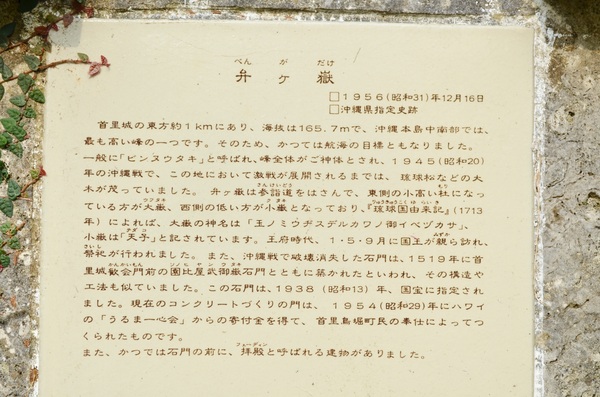 Located about 1km east of Shuri Castle, it is commonly called "Bin-nu-Utaki." The whole ridge is considered to be the sacred body of the god. Ben-ga-Dake is the best ridge in Shuri, where you can look over Sefa Utaki.
Basic information
Address

903-0805

5-62 4-121 Torihori-cho Shuri Naha Okinawa

TEL

098-917-3501 (English is not supported)

Municipal cultural property division of Naha city

Business hours

Nothing in particular

Close day

Nothing in particular

Charge

Free

Parking

None

Access information

A 5-minute walk from the Tera 3-chome bus stop.
Additional Information
Academic information

Cultural property(Prefectural designated historical site)
Designated Date: December 16, 1956
Located about 1km east of Shuri Castle, it is commonly called "Bin-nu-Utaki." The whole ridge is considered to be the sacred body of the god. It is 165.7m above sea level, the second highest peak in the central and southern parts of Okinawa, after Yoza Peak (168.5m). For the height, it used to be a landmark for voyages, and the peak was grown with big pine trees until the Battle of Okinawa, in 1945. In the past, in January, May, and September, the rites were conducted by kings. A concrete gate is a temporary gate for a stone gate in front of the big utaki, which was destroyed during the Battle of Okinawa. The temporary gate was built with money donated by the "Uruma Isshinkai" in Hawaii in 1954 and contributions of people from Torihori-cho, Shuri. Before the stone gate was a structure called Feden, a hall of worship.

Quote

Naha Board of Education Cultural Heritage Division (2007) "Naha Cultural Property" Naha Board of Education