Sueyoshi-gu Shrine Site (Historical scenic natural monument)
Historic sites
History
Temples and shrines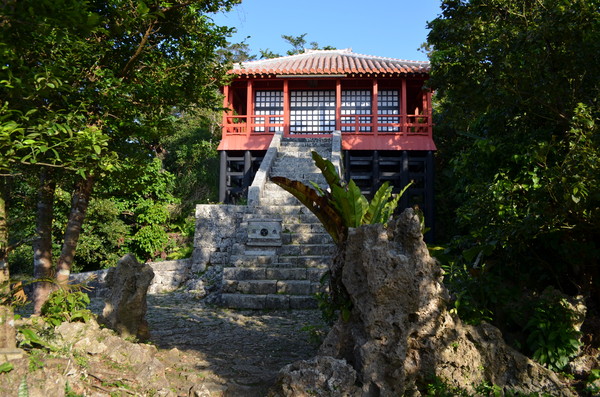 Sueyoshi-gu Shrine sitting atop a small grove, is one of the "Ryukyu Hassha (8 shrines assigned a special status by the Ryukyu government)," and is also called "Shadan." According to the "Ryukyu Shintouki (Accounts of the Ways of the Gods)" (1648), during the reign of King Sho Taikyu (1454 to 1460), a chief priest, Kakuou Osho, enshrined Kumano Gongens (Shinto Avatars) here.
Basic information
Address

903-0801

1 Sueyoshi-cho Shuri Naha Okinawa In Sueyoshi Park

TEL

098-917-3501 (English is not supported)

Municipal cultural property division of Naha city

Business hours

Nothing in particular

Close day

Nothing in particular

Charge

Free

Parking

Available

Access information

A 6-minute walk from the monorail Shiritsu Byoin-mae station. A 4-minute walk in the Sueyoshi Park.
Additional Information
Academic information

Cultural property(National designated historical site)
Designated date: May 15, 1972
Sueyoshi-gu Shrine sitting atop a small grove, is one of the "Ryukyu Hassha (8 shrines assigned a special status by the Ryukyu government)," and is also called "Shadan." According to the "Ryukyu Shintouki (Accounts of the Ways of the Gods)" (1648), during the reign of King Sho Taikyu (1454 to 1460), a chief priest, Kakuou Osho, enshrined Kumano Gongens (Shinto Avatars) here.
Below the shrine was a stage for kumiodori (a form of narrative traditional Ryukyuan dance) "Shushin Kaneiri," and a site for Hensho-ji temple (former Manju-ji Temple), which was also called "Shishinutira." The sango (the title prefixed to the name of a Buddhist temple) is Taikeizan and is a temple of the Shingon sect. The year 1457 was shown on the bell given by King Sho Tai which indicates Hensho-ji Temple might have been built at the same time as Sueyoshi-gu was built. However, the exact construction year is unknown.
After going up the stone-paved approach, you can see a stone bridge over a small valley, which leads to the main hall. The main hall is a wooden building of three-column wide structure with a thatched roof.
Also in the grove surrounding the shrine, sacred spots called ibe are scattered, which can tell how the sanctuary has been worshipped as an objective of their religion since ancient times.
In 1997, the repair work and an application of coating on the main hall was conducted, and in 1999, the offering hall was reconstructed after 86 years.

Quote

Naha Board of Education Cultural Heritage Division (2007) "Naha Cultural Property" Naha Board of Education