Shuri Kinjo-cho Stone Paved Path
Historic sites
History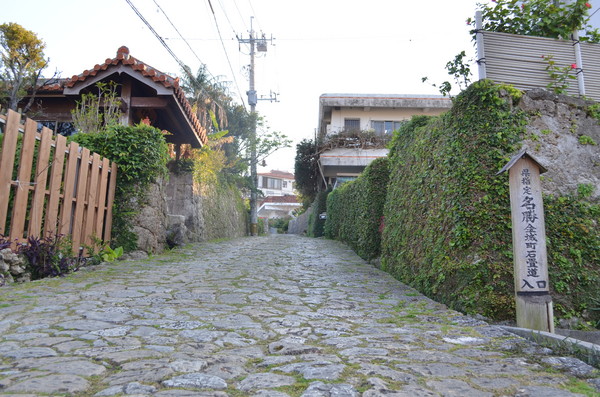 The Kinjo-cho, Shuri cobblestone street, leading to Madan-bashi bridge on the Kokuba River from Shuri Castle, was an official road which was 10km in length and part of the pearl road; its construction began in 1522, under the reign of King Sho Shin of the Ryukyu Kingdom. Most of the pearl road was destroyed during the Battle of Okinawa in World War II; however, an existing section of the cobblestone road in Kinjo-cho, Shuri, is about 238m long, showing us its current form in present day.
Basic information
Address

903-0815

2-35 Kinjo-cho Naha Okinawa

TEL

098-917-3501 (English is not supported)

Municipal cultural property division of Naha city

Business hours

Nothing in particular

Close day

Nothing in particular

Charge

Free

Parking

None

Access information

About a 15-minute walk from Shuri station, about 8 minutes by car, About a 7-minute walk from Shuri Castle Park, about 4 minutes by car.
Additional Information
Academic information

Cultural property(Prefectural designated historical site・scenic spot)
Designated date: May 1, 1964
During the reign of King Sho Shin (1477 to 1526), connecting roads inside of Shuri, as well as connecting Shuri with every area, were developed. As a part of the development, the road linking Shuri with the Shimajiri area was developed around 1522, one section of which is this Ishidatami-michi Stone Paved Path. On average, it is about 4m wide and about 300m long. About 20 to 30cm of Ryukyu limestone was paved after using the finishing method called kotataki (beating) on the stone surface. Stones were paved with midarejiki (randomly paging) method. After miraculously escaping damage during the Battle of Okinawa, stone walls surrounding houses on both sides of the stone paved path still remain. This path is a treasure to show people today the remnants of the housing area in the old castle town in Shuri.

Quote

Naha Board of Education Cultural Heritage Division (2007) "Naha Cultural Property" Naha Board of Education