Stone Gate of the Kamitenpi-gu Shrine Site
Historic sites
Temples and shrines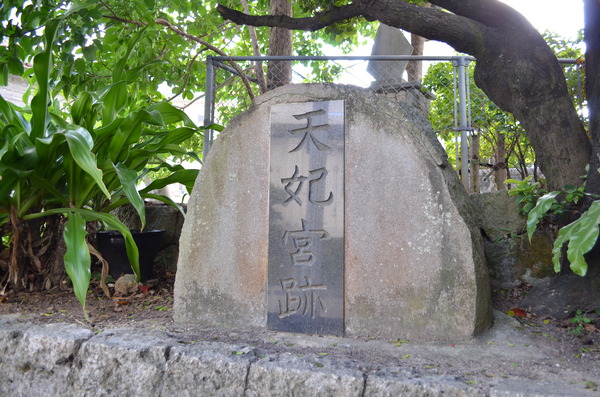 In Okinawa, when many people from the Fujian Province in China came to Okinawa around the end of the 14C, a belief of worshiping a guardian goddess for marine travel, Tenpi was spread. In Naha, there was the Ue Tenpi-gu Shrine and the Shita Tenpi-shrine, but what remains now is a stone gate for Ue Tenpi Shrine.
Basic information
Address

900-0033

1-3-8 Kume Naha Okinawa

TEL

098-917-3501 (English is not supported)

Municipal cultural property division of Naha city

Business hours

Nothing in particular

Close day

Nothing in particular

Charge

Free

Parking

None

Access information

A 5 minute walk from the monorail Asahibashi station. A 2 minute walk from the Kume bus stop.
Additional Information
Academic information

Cultural property(Municipal designated historical site)
Designated date: April 8, 1977
In late 10C, there was a lady worshiped as Maso in Hoenken, Fujian Province, China. She excelled in fortune telling. So after her death, they built a reliquary shrine to worship her as a goddess. Later on people in the coastal area of southern China started believing Maso was the guardian deity for safe voyages. The emperor in the Ming Dynasty bestowed the title of "Tenpi" on her. (The emperor in the Qing Dynasty bestowed the title of "Tenko" on her.) Both investiture ships and Okinawan ships worshipped Tenpi. Every time they departed for or returned from a voyage, they visited the Tenpi Shirine.
In Okinawa, when many people from the Fujian Province in China came to Okinawa around the end of the 14C, a belief of worshiping a guardian goddess for marine travel, Tenpi was spread. In Naha, there was the Ue Tenpi-gu Shrine and the Shita Tenpi-shrine, but what remains now is a stone gate for Ue Tenpi Shrine.
The year shown on the bell hanging at Ue Tenpi Shrine gives us a hint the shrine was built around the mid 15C. The stonewalls leading to the stone gate are similar in a masonry method to those at Omonogusuku (in the Naha military port) or Zakimi Castle at Yomitan Village. The stonewalls at the shrine might have been built when the Nuno-zumi method where most of the stones are roughly the same size so that they line up across the face of the wall was developing into Aikata-zumi, where piles of stones are cut into polygonal shapes prior to fitting.

Quote

Naha Board of Education Cultural Heritage Division (2007) "Naha cultural property" Naha Board of Education