Asato-Hachiman-gu (Asato Hachiman Shrine)
History
Temples and shrines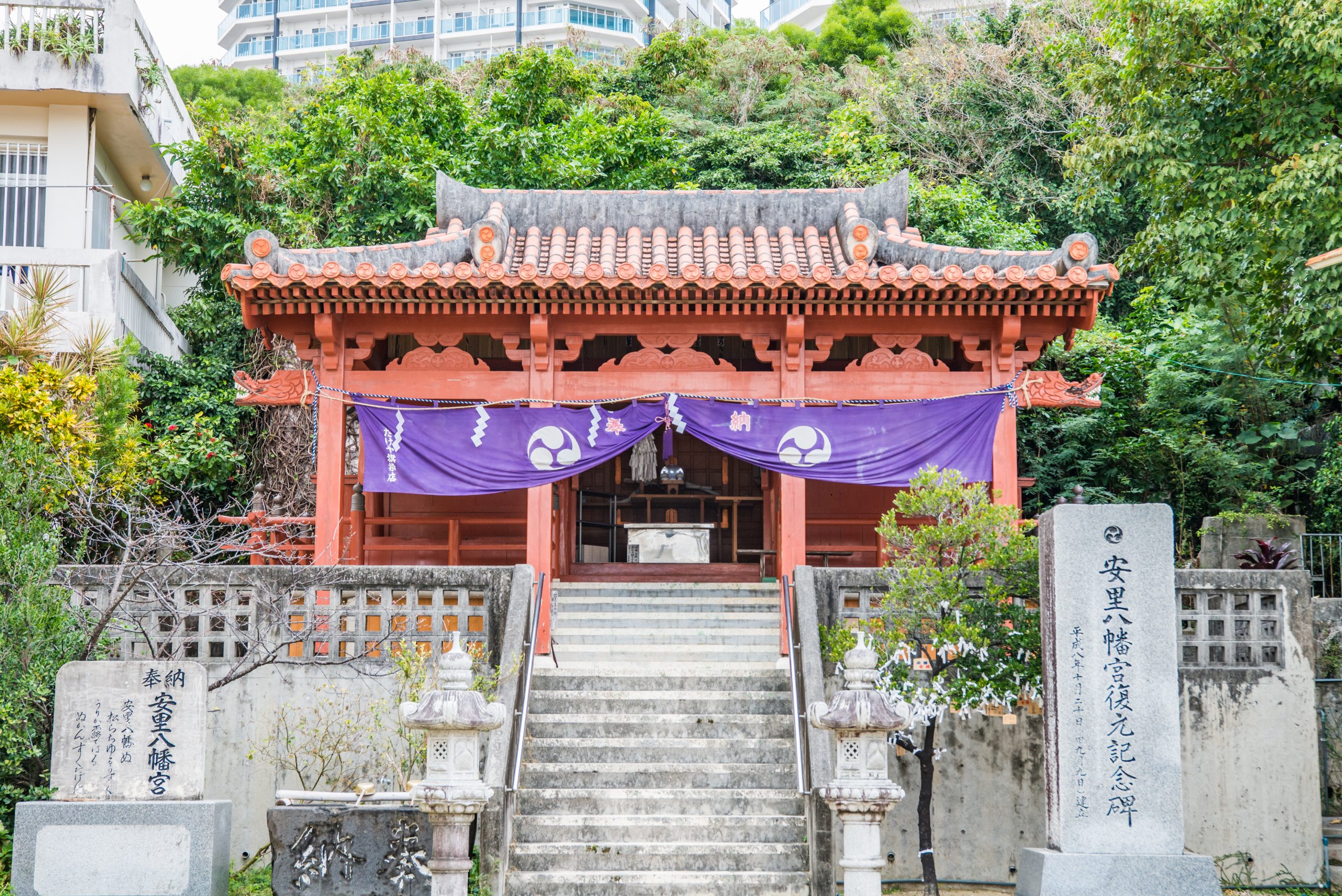 This shrine was built in King Shou Toku's period. It is one of the eight shrines of Ryukyu and enshrines Oujin Tennou, Jinguu Kouhou and, Tamayoribimeno-mikoto.
Basic information
Address

902-0067

3-19-14 Asato Naha Okinawa

Close day

Nothing in particular.

Charge

Free

Parking

None

Access information

About an 8-minute walk from the Yui Rail Asato Station.
Additional Information
Academic information

Asato-hachiman-gu is a shrine located in Asato, Naha City. It is one of the eight shrines of Ryukyu and enshrines Oujin Tennou (Emperor Oujin), Jinguu Kouhou (Empress Jinguu) and, Tamayoribimeno-mikoto (Princess Tamayori). The period is during the 6th Ryukyu King Shou Toku, when he decided to subdue Kikai Island. One old man in the village told him that "Hit a bird with an arrow and let the hunting dogs in vanguard." and he followed the message. When on the way to Kikai Island, they found a floating bell and picked it up. When they had subdued Kikai Island and came home; he shot a bow and built a shrine where the arrow hit. He enshrined the bell and the divine arrow as a God and then named it Hachiman. (Bodhisattva) It is the origin of this shrine. Asato-hachiman-gu was also used as a local place of worship and closely related to the local people's religion. As this shrine is not in the shrine ranking order and did not have financial support, its building collapsed. In 1944, during the Battle of Okinawa, it was burned to the ground. The restored shrine is what you presently see today.