Sunga Hija Well
History
Nature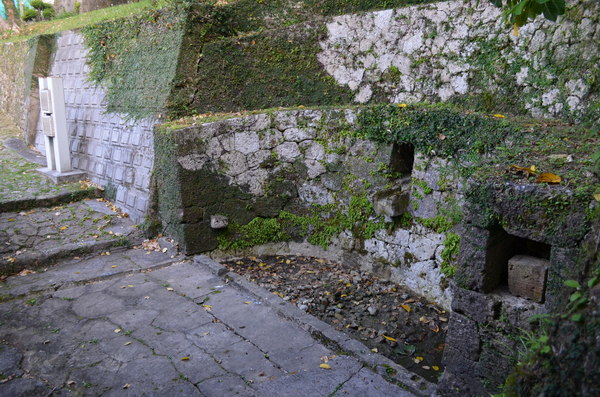 Sunga Hija is a well located in old Sunga-mura (presently Samukawa-cho). This hija was very important for water for daily life for residents as a communal well. The stonewall is three-tiered, semicircular with "Aikatazumi," where piles of stones are cut into polygonal shapes prior to fitting, which shows beauty. The pond retaining spring water is shallow so that overflow water goes down through the channel to be retained in a square pond below.
Basic information
Address

903-0826

1-54 Samukawa-cho Shuri Naha Okinawa

TEL

098-917-3501 (English is not supported)

Municipal cultural property division of Naha city

Business hours

Nothing in particular

Close day

Nothing in particular

Charge

Free

Parking

None

Access information

Next to Sunga Hija bus stop down the stairs on the left.
Additional Information
Academic information

Cultural property(Municipal designated historical site)
Designated date: July 21, 1979
Sunga Hija is a well located in old Sunga-mura (presently Samukawa-cho). This hija was very important for water for daily life for residents as a communal well. The stonewall is three-tiered, semicircular with "Aikatazumi," where piles of stones are cut into polygonal shapes prior to fitting, which shows beauty. The pond retaining spring water is shallow so that overflow water goes down through the channel to be retained in a square pond below. The edge stone of the well is big and combined with the stone pavement. The stone surface has round corners, perhaps because it was worn down through people fetching water. This is the result of many people using this well. The reason why the higher ground has a spring is related to the surrounding terrain. To the north of the well lies a layer of Ryukyu limestone, below which lies a layer of kucha (clay soil). When it rains, water going through Ryukyu limestone comes out when it reaches the kucha. Around the puddle below, you can see kucha exposed.

Quote

Naha Board of Education Cultural Heritage Division (2007) "Naha Cultural Property" Naha Board of Education