Whale Watching
Event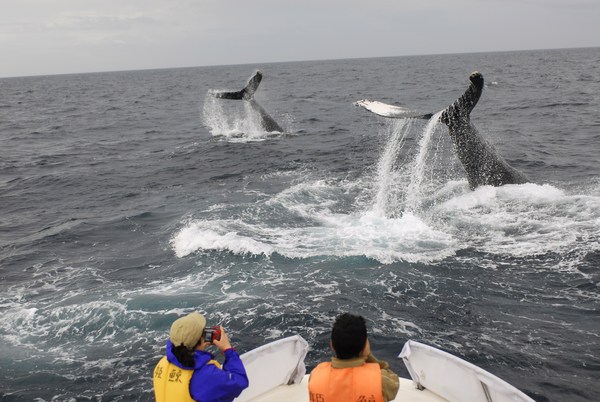 Every year, from December to April, humpback whales are coming down to the south from Siberia to Okinawa's ocean for delivery and baby care. Many whale watching tours are provided by travel agencies and scuba diving pro-shops in Naha City. The tour ship arrive at and departs from Naha Port. The humpback whale is the largest mammal on Earth and sizes range from 13m-15m and weight up to 30tons. They mostly appear near Okinawa main island's west side ocean and, about 300 individual whales are identified in a given year. They show us various performances named "blow" (spouting) "peck slap", "tale slap", "breach" and, "head slap".
And, please keep in mind that whale watching tours are designed to observe wildlife in nature. Therefore, tour group organizers cannot offer a 100% guarantee of seeing the whales or not. Each tour ship shares information about whales and tries their best to enable the tourist to watch the whales as much as possible. Some of the tour saying that unfortunately if you couldn't watch the whales, the agencies promise to refund the money, if no whales are observed. Needless to worry, this type of tour is increasing in popularity.
Basic information
Address

Naha Okinawa

Business hours

Whale watching takes place around December to April every year.

Access information

Diving shops, hotels and travel agencies conduct a whale watching tour.