Site of the Ringumui and the Renge-in temple
History
Temples and shrines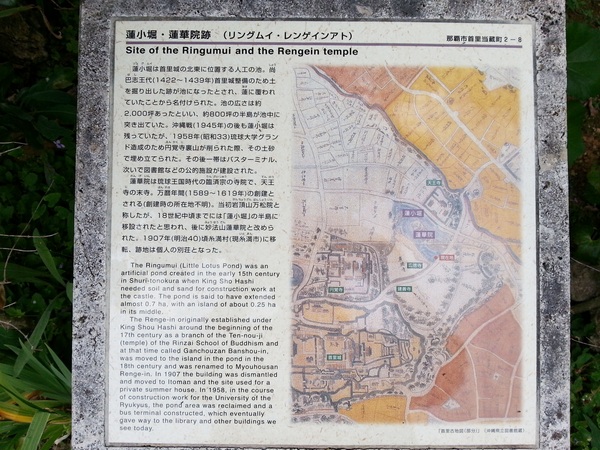 The Ringumui (Little Lotus Pond) was an artificial pond located in the northeast of Shuri Castle. It was built in the King Sho Hashi period (1422-1439). They dug out the soil for Shuri Castle maintenance and made this pond at the hole. The name of the pond came from the lotus plants floating there.
Basic information
Address

903-0812

2-8 Tonokura-cho Shuri Naha Okinawa

Business hours

Nothing in particular

Close day

Nothing in particular

Charge

Free

Parking

None

Access information

Heading towards Haebaru from Naha on the 2 (kanjo 2 go sen), turn right at the Torihori intersection. Next turn left onto the small road just before the Shuri library (Shuri toshokan) along Ryutan-dori. It is across from Banshou-in.
Additional Information
Academic information

The Ringumui (Little Lotus Pond) was an artificial pond located in the northeast of Shuri castle. It was built in the King Sho Hashi period (1422-1439). They dug out the soil for Shuri Castle maintenance and made this pond at the hole. The name of the pond came from the lotus plants floating there.

The pond is said to have extended almost 6,600 square meters, with an island of about 2,600 square meters in its middle. Although Ringumui existed after the Battle of Okinawa, in 1958, in the course of construction work for the University of the Ryukyus, the pond area was reclaimed when the back hill of the Enkaku Temple was scraped away. Then a bus terminal was constructed, which eventually gave way to the library and other buildings we see today.
The Renge-ji was the temple of Ryukyu kingdom era. A branch of the Ten-nou-ji (temple) of the Rinzai denomination, built in Banreki time (1589-1619). At the beginning, it was called Ganchozan Bansho-in; however, it was moved to the island in the pond in the middle of 18th century and was renamed to Myohozan Renge-in. In 1907, the building was dismantled and moved to Itoman; and the site was used for a private summer house.

Quote

Naha City Museum of History