Site of the Kaizuribugyousho
History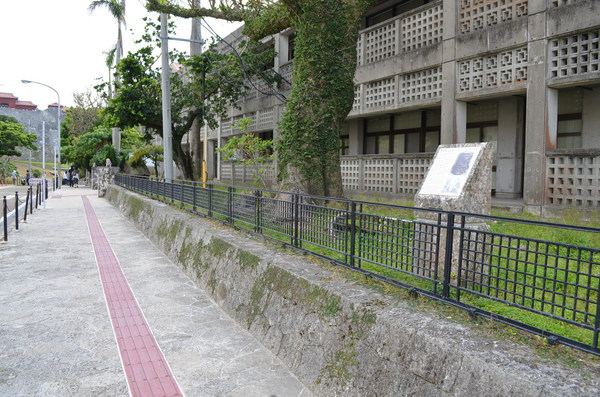 The Kaizuribugyousho (Mother of Pearl Magistrate's Office) supervised the production of lacquerware items that were used as official gifts as well as the training of the associated artisans. It was relocated from the site of Shokokuji, in 1745.
Basic information
Address

903-0812

1-4 Tonokura-cho Shuri Naha Okinawa

Business hours

Nothing in particular

Close day

Nothing in particular

Charge

Free

Parking

None

Access information

A 1-minute walk from the Tonokura bus stop. Ryutan-dori.
Additional Information
Academic information

The Kaizuribugyousho (Mother of Pearl Magistrate's Office) supervised the production of lacquerware items that were used as official gifts as well as the training of the associated artisans. It was relocated from the site of Shokokuji, in 1745.
During the 15th and 16th century, the Ryukyu Kingdom sent such gifts as horses, sulfur, and lacquered short-sword scabbards to China, and it is believed that the office to supervise the production of lacquerware, the Kaizuribugyousho, would have been established quite early on. In 1612, Mouuji-binbechin-seiryou (毛氏保栄茂親雲上盛良), assigned to Kaizuribugyo, directed artisans there; "Kaizuri-shi" (lacquer artisan), "E-shi" (painter), "Himono-shi" (Cypress craft man),"Togimono-shi" (Sharper) and, "kijibiki" (potter). Kaizuribugyosho already organized by this time. In this, bugyousho decided and planned the design of gifts to the Chinese emperor, Japanese Shogun, and Daimyous (feudal lord) as well as managed the quantity and expenses for materials and production control.
With the annexation of the kingdom by Japan, in 1879, the Kaizuribugyousho was disbanded.
The production of lacquerware was transferred from the former administration into private hands and lacquerware products became highly appreciated gift items in Japan. After the Battle of Okinawa, lacquerware producers re-emerged in 1980, to supply the then Ministry of International Trade and Industry "Ryukyu Lacquerware".

Quote

Naha City Museum of History