Asahigaoka Park (including Uminari Statue, Kozakura Tower, Master Jana Rizan Monument, Newspaper Men's Monument, Okinawa Performing Arts Ancestors Monument)
Historic sites
History
Nature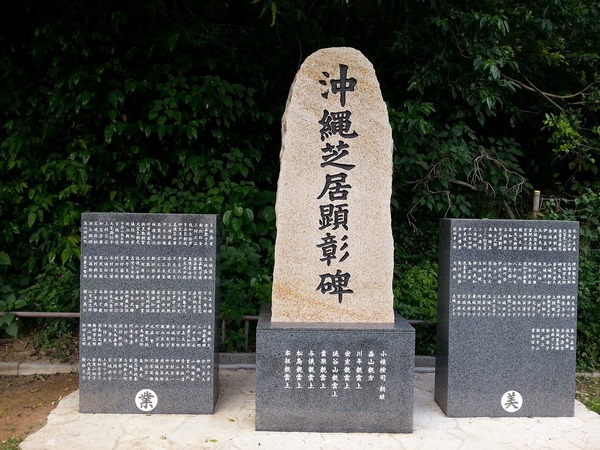 The park is located next to the Naminoue Beach and is the only beach in Naha City. Public showers (paid) are available, and many people enjoy swimming. Naminoue Shrine and Gokoku Temple are in the park. Tsushima Maru (cargo ship) Museum is next to the park. The park is a popular place for people in the neighborhood.
Also many memorial monuments are located in Asahigaoka Park.
Statue of Uminari, (Uminari no Zou, a monument of shipwreck victims from the Battle of Okinawa), Kozakura Tower (Kozakura no Tou, a monument of victims of the Tsushima Maru cargo ship), a monument of the journalists who had published a newspaper for two months, during the battle, along with some other monuments which console the spirits of the deceased from the war. There are also commending monuments; one is for master Jahana (Jahana Uetaka) who was the descendant of Kume Sanjurokuse (Jana Uekata Rizan Kenshohi) and another one is for the Okinawa Performing Arts Ancestors (Okinawa Shibai Sendachi kenshohi), for people hoping for the re-emergence of Okinawan Performing Arts.
Basic information
Address

900-0031

1-26-5 Wakasa Naha Okinawa

TEL

098-866-7473

Naminoue Beach Administrative Office

Business hours

Nothing in particular

Close day

Nothing in particular

Charge

Free

Parking

Paid Parking Available

Access information

About 15 minutes by car from Naha Airport.
A 30-minute walk from the monorail Asahigaoka station.