Takaraguchi Hija Spring
Nature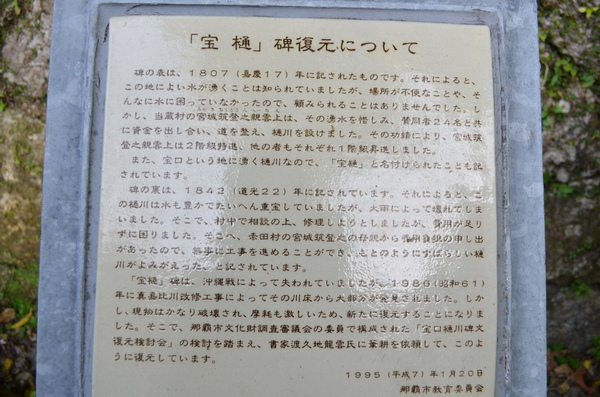 This spring named after the name of the area, "Takaraguchi" has stone walls of large and small Ryukyu limestone on its back and its surroundings; the stones are piled with "Aikata-zumi," where piles of stones are cut into polygonal shapes prior to fitting. The foreyard is also paved with stones, but in early Showa era, aqua tanks were built of concrete to separate drinking water from laundry water.
Basic information
Address

903-0821

4-80 Gibo-cho Shuri Naha Okinawa

TEL

098-917-3501 (English is not supported)

Municipal cultural property division of Naha city

Business hours

Nothing in particular

Close day

Nothing in particular

Charge

Free

Parking

None

Access information

A 5-minute walk from the monorail Gibo station. On they way is the Kamisukijo remains, and from the side, heading to the back, there is a narrow path along the river. Proceed about 70m and you will find it.
Additional Information
Academic information

Cultural property(Municipal designated historical site)
Designated Date: September 28, 1976
This spring named after the name of the area, "Takaraguchi" has stone walls of large and small Ryukyu limestone blocks on its back and its surroundings, which are piled with "Aikata-zumi," where piles of stones are cut into polygonal shapes prior to fitting. The foreyard is also paved with stones, but in early Showa era, aqua tanks were built of concrete to separate drinking water from laundry water.
Due to the road construction and residential development in the area, the mountain in the back was opened up for cutting down trees. The amount of spring water was 112.5 liter on January 1, 1986; however, most of which is now lost. Also, the quality got worse because of the mixture with living drainage; therefore, the water is not drinkable any more.
At the entrance, there used to be a stone tablet with the title of "Takarahi," but it was destroyed right after the Battle of Okinawa started. Only its base remains now. However, in 1986, at the construction of the Makabi river, which runs before Takaraguchi Hija, the stone tablet had been discovered at the river bed after 40 years, and is kept by The Naha City Board of Education. The tablet was built when people in Akata-mura completed a large renovation work in 1807 and tells the history of the establishment of the Takaraguchi Hija, and the background to the renovation.

Quote

Naha Board of Education Cultural Heritage Division (2007) "Naha Cultural Property" Naha Board of Education