Site of the Ufudo Matsubara
History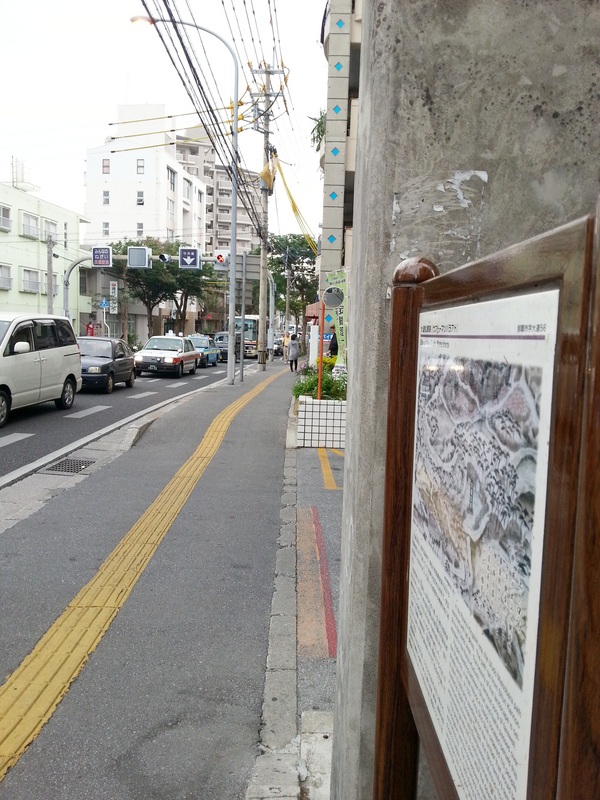 In the Ryukyu Kingdom era, the Ufudo Matsubara Path was lined with tall pines. The path ran from Shuri Kannon-do to the Daido area. The beauty of landscape is celebrated in the Nubui-Kuduchi, a famous song of farewell.
Basic information
Address

902-0066

56 Daido Naha Okinawa On the Ryusei Byoin side.

Business hours

Nothing in particular

Close day

Nothing in particular

Charge

Nothing in particular

Parking

None

Access information

Take the "Yui Rail" from Naha Airport. Get off at Asato Station. About a 10-minute walk.
By bus, get off at the Sakashita Ryusei Byou-in bus stop. A 2-minute walk away.
Additional Information
Academic information

In the Ryukyu Kingdom era, the Ufudo Matsubara Path was lined with tall pines. The path ran from Shuri Kannon-do to the Daido area. The beauty of landscape is celebrated in the Nubui-Kuduchi, a famous song of farewell. There were a hill (the hill behind of billboard) called "Ufudo-mo" in the Daido area.

People traveling between Shuri and Naha passed over the Ufudo-mo, a small hillock in Daido (located behind this display panel). In 1501, King Sho Shin ordered his people to plant 10,000 pine seedlings for the lumber that would be needed to repair Enkakuji Temple, the Sho family's temple. A monument known as "Sashikaeshi-Machu-nu-himun" was erected on the hill to commemorate the event. In that time pine trees lined the way from "Banzai-rei" (present:Kannon-do), The "Kansho-rei" (present: neighbourhood of Miyako hotel) to Daido area included "Ufudo-mo".

The pines were cut down after the annexation of the Ryukyu Kingdom and the consequent establishment of Okinawa Prefecture. The monument on the Ufudo-mo was reduced to rubble in 1945 during the Battle of Okinawa. The landscape has changed greatly due to the roadway and residential expansion of postwar urban development.

Quote

Naha City Museum of History