Site of Banzairei Peak
History
Temples and shrines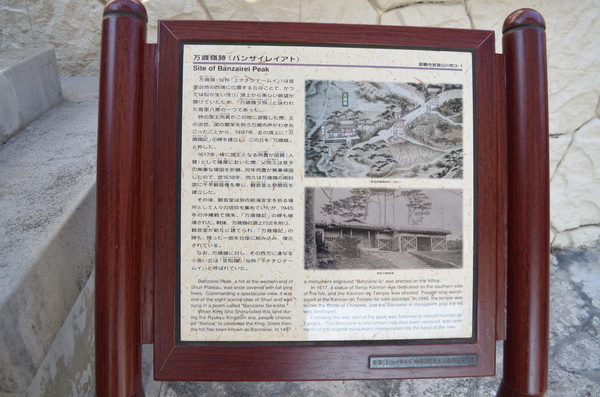 Banzairei (common name: ui-nachijinaamui) is a hill located at the west end of Shuri plateau. Once, there grew a thick stand of pine trees, and a beautiful view opened out from top of the hill. It used to called "Banzairei-Sekishou" and counts as one of Shuri top eight scenic sites.
Basic information
Address

903-0825

3-1 Yamakawa-cho Shuri Naha Okinawa At the Shuri Kanondo

Business hours

Nothing in particular

Close day

Nothing in particular

Charge

Free

Parking

None

Access information

A 2-minute walk from the Miyako Hotel Mae bus stop. Inside the main gate of the Jigen-in.
Additional Information
Academic information

Banzai-rei (Rei means "peak" and is the common name for ui-nachijinaamui) is a hill located at the west end of Shuri plateau. Once, there grew a thick stand of pine trees, and a beautiful view opened out from top of the hill. It used to called "Banzairei-Sekishou" and counts as one of Shuri top eight scenic sites. It used to be called "Banzai-rei-Sekishou" (sekishou means "glows with setting sun") and counts as one of Shuri's top eight scenic sites. When King Sho-shin visited there for sightseeing, Banzai's voice arose from the crowd and celebrated the reign of the King and celebrated the prosperity of the country. In 1497, Banzai-rei monument was built on top of the hill and named the hill "Banzai-rei".

In 1617, when the pretender to kingship Shouhou went to Satsuma as a hostage, his father Shoukyu prayed for Shouhou's safe return. In the same year, Shouhou returned safely. In 1618, a year after Shouhou returned, Shoukyu built Kannon-dou and Jiganin (temple) on south slope of Banzai-rei, and dedicated Senjyu-kannon (thousand-armed Goddess of Mercy) Later on, Kannon-dou gathered people at a place of worship, to pray for safe sailing and travel. In 1945, the Kannon-dou was burned during the Battle of Okinawa, and the monument of Banzai-rei-ki (description) was destroyed. After the war, the area of Banzai-rei was leveled, and a new Kannon-dou has been built. Used partly on the original foundation, the Manzai-rei-ki monument was rebuilt too. In addition, the elevated hill which ranges west of Banzai-rei is called "kanshou-rei" (common name: Simu-nachijinaamui).

Quote

Naha City Museum of History