Ie-dunchi Garden
Historic sites
History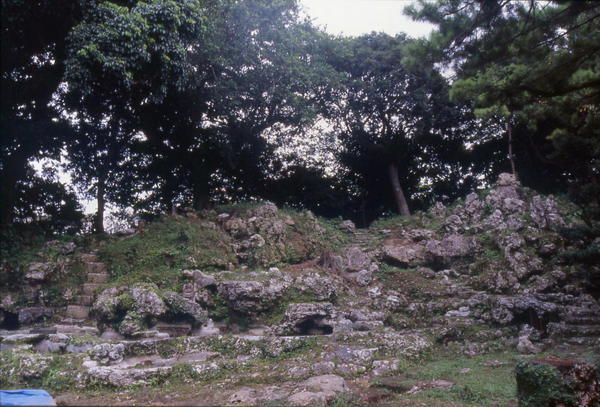 Ie-dunchi Garden is a typical garden of warrior class families during the Ryukyu Kingdom period. The date of construction is unknown. Skillful masonry of large and small strangely-shaped rocks combined into natural rocks is considered to be influenced by Chinese gardens.
Basic information
Address

903-0812

2-21-1 Tonokura-cho Shuri Naha Okinawa

TEL

098-917-3501

Naha Board of Education Cultural Heritage Division

Business hours

Nothing in particular

Close day

Nothing in particular

Charge

Free

Parking

None

Access information

About a 7-minute walk from Yui Rail Shuri station.
Additional Information
Academic information

Designated Date: June 16, 1986
Ie-dunchi Garden is a typical garden of warrior class families during the Ryukyu Kingdom period. The date of construction is unknown. Skillful masonry of large and small strangely-shaped rocks combined into natural rocks is considered to be influenced by Chinese gardens. A terraced dug pond represents clouds, from which a tiger-shaped rock holds its ground in the water, facing a stone-carved dragon. This combination of a dragon and tiger is also considered to be influenced by China. On the surface of sophisticatedly-set out rocks, you can find inscribed letters such as "Soun" and "Soseki Sanbou," which are believed to be the handwritings of Cho Bunkai, a chief investiture envoy and Lee Teigen, a vice envoy who came to Ryukyu in 1800 for crowning King Sho On. On the east side of the former garden, camellia trees were planted as a perimeter tree and ahead to the right of the garden was a giant Ryukyu Kokutan ebony and an old Ryukyu Kokutan ebony with its branches spread out to crawl on the pond water. Among the trees behind a highly-elevated rocky hill to the east end of the garden, big stone lanterns were placed whose fire box has carvings, representing the crescent, half moon, and full moon. They say that when the lanterns were lit, they looked like a rising moon in the eastern sky. Among the trees stretching out at the back of the garden, there was an archery ground called Uiba.

Quote

Naha Board of Education Cultural Heritage Division (2007) "Naha Cultural Property" Naha Board of Education