Old Stone Monument Commemorating Yonahasedo Tomioya's Stay
Historic sites
History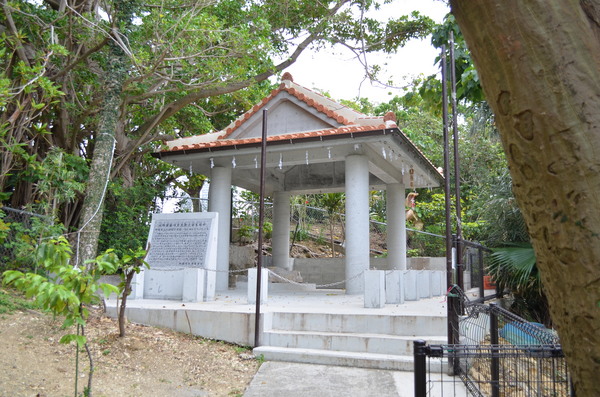 In 1390, Yonahasedo Tomioya was the fist person from Miyako Island that submitted to Chuzan Kingdom in Shuri. Accordingly, he was appointed as a chief of Miyako Island. The monument stands at the site of residence of Yonahasedo Tomioya.
Basic information
Address

900-0011

201 Uenoya Naha Okinawa Uenoya Takamasai Park

TEL

098-917-3501 (English is not supported)

Municipal cultural property division of Naha city

Business hours

Nothing in particular

Close day

Nothing in particular

Charge

Free

Parking

None

Access information

An 8-minute walk from the Uenoya bus stop.
Additional Information
Academic information

Cultural property(Municipal designated historical site)
Designated date: April 16, 1976
In 1390, Yonahasedo Tomioya was the fist person from Miyako Island that submitted to Chuzan Kingdom in Shuri. Accordingly, he was appointed as a chief of Miyako Island. However, he could not understand the language (dialect) of Shuri, so he chose 20 subordinates to let them learn the language for 3 years. It has been said that the subordinates delivered the tributary items to the kings and would receive a farewell banquet in the castle when returning to Miyako. The inscription says "After that, the site of residence was passed on to someone; therefore, Yonaha's descendants purchased this land and built a monument. In 1767 when Keisei, the 4th generation of the Shirakawa political party, visited the kingdom, he built this stone monument." The upper half of the monument was destroyed during the battle of Okinawa. With the cooperation of the "Yonahasedo Tomioya Hosankai, the Naha City Board of Education reconstructed the monument in October, 1987.

Quote

Naha Board of Education Cultural Heritage Division (2007) "Naha cultural property" Naha Board of Education