The Dragon Pillar Monument
History
Street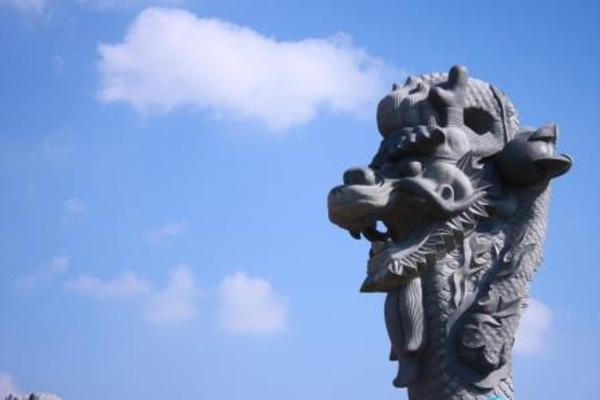 The dragon pillar monument was created to commemorate the friendship and exchange between Naha City and
Fuzhou City, China, which in 2011 celebrated the 30th anniversary of the Friendship City agreement signed in 1981. The
dragon pillars are 15 meters tall, 3 meters wide, and are made of granite stone produced in Fujian Province, China.
The monument is installed on the coast of Wakasa, which is a part of the symbolic axis of Naha City that runs from
the Wakasa coast to Shuri via Kokusai Street, identified in the Master Plan of Naha City as the spine of history and culture.
Founded on topography, feng shui (geomancy), history and culture, the monument design is closely associated with
the Shurijo Castle drawing on the symbolic axis connecting Shuri, Kokusai Street and Wakasa.
Design and construction in the Ryukyuan Kingdom era was centered on the concept of feng shui, which influenced
the arrangement of the natural features and buildings of Shurijo Castle, the seat of the Royal Government. The dragons
in the Seiden (state hall) of the castle are the most notable examples of this design. All of the five-dragon motifs with the
precious gem balls face the Una forecourt to form longmai, or the flow of dragon energy in feng shui. The monument in
Wakasa was designed after the dragon pillars in the Una forecourt which are characterized by unique form found nowhere
else but in Okinawa.
The pillars are vertical quadrangular prisms with carvings depicting: (1) dragons coiled up and their heads elevated;
(2) the forelegs held forward in the upper and lower positions, with the upper foreleg holding the precious gem ball; and
(3) a dragon pair, one with its mouth open (Agyo) and the other with its mouth closed (Ungyo). The combination of (2) and
(3) are features common to the Statues of the Nio (benevolent kings).
The dragon pillars at the Shurijo Castle Seiden have vertical quadrangular prism bodies that are connected to the
balustrade of the rear steps.
The dragon pillar monument at Wakasa is an extension of the dragon pillars at the Seiden. Instead of being connected
to the balustrade or sitting on a pedestal, the dragons emerge directly from the ground, forming an energy flow from Shuri
to Wakasa via Kokusai Street.
The dragon pillar monument faces the ocean towards Nirai Kanai, the land of abundance beyond the seas, in prayers
for peace and development.
Basic information
Address

1-3-5 Wakasa Naha Okinawa

Charge

Free

Parking

Tool Parking

Access information

Take the「Yui Rail」from Naha Airport and get off at Makishi station. 20minute walk.
For local buses, (#2,#3,#5,#15,#45) get off at Kumekoushibyo bus stop. 1minute walk.