Jintokuji
Temples and shrines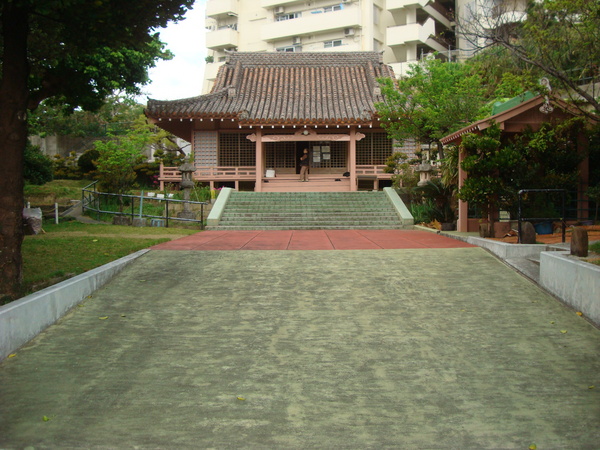 Jintokuji is a temple of the Tō-ji Shingon sect of Buddhism located in Asato, Naha City, Okinawa Prefecture. It was originally established to administer the Asato Hachimangu Shrine. The Buddhist name of the temple is Komyozan. The main deity is Fudo Myoo.
In Okinawa Prefecture, temples of the same sect include Jinguji Temple (Futenma, Ginowan City), Henshoji Temple (Kubota, Okinawa City), Rinkaiji Temple (Akebono, Naha City), and Seigenji Temple (Kamino-ya, Naha City).
Basic information
Address

902-0067

38 Asato Naha Okinawa

Close day

Nothing in particular.

Charge

Free

Parking

None

Access information

About an 8-minute walk from the Yui Rail Makishi Station.
Additional Information
Academic information

King Sho Toku was having difficulties bringing Kikai Island under control in the years 1457-1467 of the Tenjun Era. One of the villagers told King Sho Toku that if the King himself would take command of the expedition to Kikai Island, he would win. The king decided to go to war and when he was passing the foot of Shuri Castle, he saw a water bird. He prayed to god that if he has a chance of winning the war, he would be able to shoot down the water bird. He shot a pair of arrows: one pierced the ground and the other the bird. Being joyful, King Sho Toku started his voyage to Kikai Island. When his boat was advancing, he saw a bell bobbing along on the waves. Even though his men failed to scoop up the bell, it stayed near the boat. So, the king decided to get the bell, promising himself that if he can win the war, he should be able to pick up the bell. He stretched his right arm to reach the bell. The bell, riding on the waves, floated into the king's hand. King Sho Toku happily scooped up the bell and then made a shrine aboard for worship. Legend says that after returning to Okinawa, he built a temple and a Shinto shrine and had the arrow of divine power enshrined.