Site of Chanazachi Bridge
History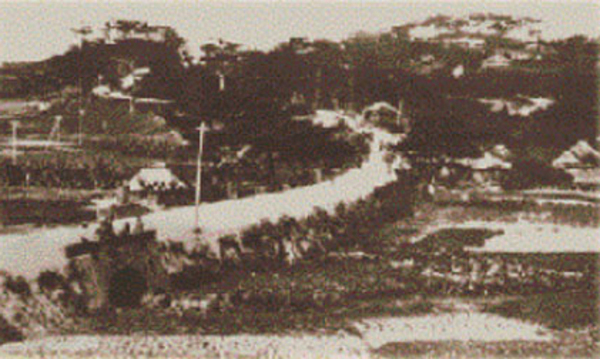 Chanazachi Bridge an important bridge connecting Shuri and Naha from Ryukyu Kingdom era to early Showa era. The bridge crossed over the Makabi River in Chanazachi hamlet (today's Matsugawa, Naha City). While the year of original construction is unknown, records indicate a wooden bridge was rebuilt with stone in 1674.
Basic information
Address

902-0062

2-13-20 Matsugawa Naha Okinawa

Business hours

Nothing in particular

Close day

Nothing in particular

Charge

Free

Parking

None

Access information

A 3-minute walk from the bus stop Sakashita Ryusei Byoin-mae.
Additional Information
Academic information

Chanazachi Bridge an important bridge connecting Shuri and Naha from Ryukyu Kingdom era to early Showa era. The bridge crossed over the Makabi River in Chanazachi hamlet (today's Matsugawa, Naha City). While the year of original construction is unknown, records indicate a wooden bridge was rebuilt with stone in 1674. It is said that ships went up to the bridge in olden days. Sai On, a bureaucrat of the 18th century, wrote about this area in his book "Hitori Mnogatari" (Soliloquy). He said "If a port would be built in Chanazachi, transportation would be more convenient and commercial ships would visit for trade. That woul help people's life in Shuri better."
This area was known for legends of spirits. Nisshu Shounin, a priest of Japan, erected a stone marker with a Sanskrit inscription on the north side of the bridge, in 1519. However people could not read what it was written on it, so the marker was called as "Matsukawa's epigram which can't be read and understood" (Mujikujin Wakaran Machiganu Hibun). The marker stood until the Meiji period, but it was removed at road expansion and no longer exists.
With postwar road development, a prefectural highway was constructed slightly north of the bridge over what was once the railroad line (rail service discontinued in 1933). Chanazachi Bridge then became part of a secondary road. The bridge was later relocated when the course of the river was altered.
Sanke-bashi Bridge was built near Chanazachi area in the Ryukyu Kingdom era, but its location is unknown. Current Sashigae Bridge succeeded its name.

Quote

Naha City Museum of History