Site of Minato Village Office (Minato-son Yakuba)
History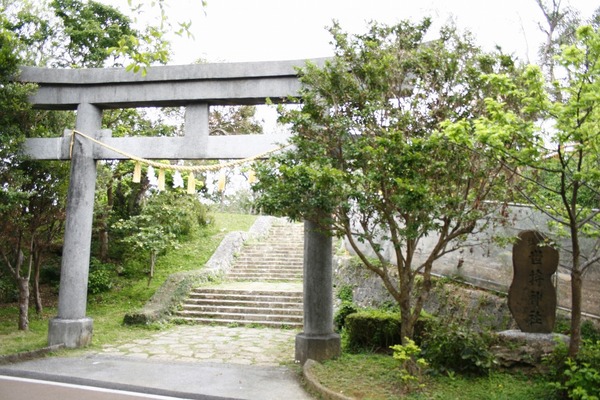 After the Battle of Okinawa, the administrative office of Minato Village, a special administrative ward was located here.
Basic information
Address

900-0026

42-3 Onoyama-cho Naha Okinawa In Onoyama Park's Yomochi Shrine in front of the Torii.

Business hours

Nothing in particular

Close day

None

Charge

Free

Parking

There is free outdoor parking (more than 100 spaces available).

Access information

About a 5-minute walk from the "Yui Rail" Onoyama-kouen station.
Next to the Cellular Stadium, in the Yomochi Shrine.
Additional Information
Academic information

After the Battle of Okinawa, the administrative office of Minato Village, a special administrative ward was located here.
In 1945, after the Battle of Okinawa, the Naha port was dedicated for use only by the U.S. Military, and the cargo handling of foodstuffs and private U.S. munitions had been carried out by the Japanese POWs initially, but with the release of prisoners, and the withdrawal to the mainland, the Naha Port work corps of about 2,000 Okinawans was organized. In order to facilitate the life and labor management of about 10,000 people, including their families and the work force, on May 1st, 1947, Minato village was established by the Okinawa people's government at the time. Kotaro Kokuba who was at the helm of the port work team was appointed as the first mayor. The Yomochi shrine of Onoyama was used for an office building.
The village encompassed approximately 230,000 tsubo (i.e.,759,000 ㎡ or 188 acres) around the Onoyama area, including Naha city's Yamashita-cho, Mawashi-mura's Sobe, Matsuo, Tsubogawa, and more. The standard housing made ​​of U.S. Military tent covers were assigned to one household to one building at a time, and within the Onoyama area, it was lined with this standard housing.
In 1950, several services were contracted to private firms, and the village lost its purpose. On August 1, Minato Village was dissolved and incorporated into Naha City.

Quote

Naha City Museum of History