Tombstone of Takushi Uekata
Historic sites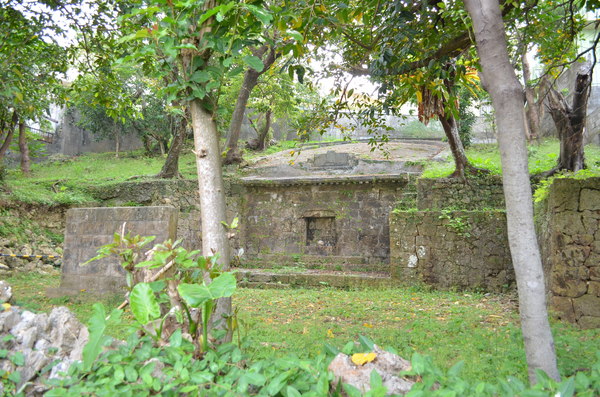 Takushi Uekata Seiri gave a great contribution to the Ryukyu Kingdom as one of the king's top three advisors during the reign of King Sho Shin (1477 to 1526). For his great achievement, this tombstone was given by the kingdom.
Basic information
Address

902-0071

4-193-2 Hantagawa Naha Okinawa

TEL

098-917-3501 (English is not supported)

Municipal cultural property division of Naha city

Business hours

Nothing in particular

Close day

Nothing in particular

Charge

Free

Parking

None

Access information

About a 6-minute walk from the Hantagawa bus stop.
Additional Information
Academic information

Cultural property(Municipal designated historical site)
Designated date: June 27, 1977
Takushi Uekata Seiri gave a great contribution to the Ryukyu Kingdom as one of the king's top three advisors during the reign of King Sho Shin (1477 to 1526). In 1522, when a new emperor in the Ming Dynasty was enthroned, he went to China as an envoy for celebration. On his return, he bought Hououkyo (a conveyance for a king) and a Ryuhi (a dragon-head shaped water conduit) at Zuisen, Shuri Castle.
For his great achievement, this tombstone was given by the kingdom. The inscription on the stone monument at the front and upper portion says "Oukyutarokanekokuchudaijinjyuzounomei," which was written by Zuikou from Tennou-ji Temple and shows how the tombstone was given to Takushi Uekata.
"Jyuzo" is a tombstone built before someone's death.
Presently, the second entrance and the court remains, in front of which, there was the first entrance and the court (presently a residential area). The surrounding stonewalls are piled with Ryukyu limestone by "Aikata-zumi," where piles of stones are cut into polygonal shapes prior to fitting. The front side of the tombstone was piled with "Nuno-zumi", where most of the stones are roughly the same size so that they line up across the face of the wall.
The sepulcher has eaves protruding in a rafter shape. Although it was made of stones, it was designed to make the tombstone look like a wooden construction. This type of structure of two-parted courts and eaves protruding in a rafter shape is similar to that of Tamaudun, a royal mausoleum.
The inside of the tombstone has a room for "Shiruhirashi (temporary burial)," the 2nd room in the back, where three stone coffins lie alongside. Further in the back, three rooms stand, above which stone tablets embedded with an inscription of "Sasho,""Chujo,""Uboku." When you open the door of each room, you can find a group burial ossuary inside. This is a valuable tombstone where such an interior of exquisite workmanship and a peculiar exterior cannot be seen anywhere else like this.

Quote

Naha Board of Education Cultural Heritage Division (2007) "Naha Cultural Property" Naha Board of Education