Sonohyan-utaki Stone Gate (A World Heritage)
Historic sites
History
Shuri Castle Park
World heritage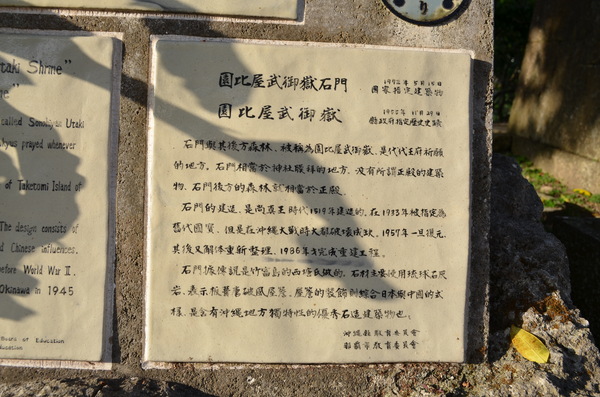 It is in the form of a gate; however, rather than as a gate through which a person uses, it was used by the King of the Ryukyu's as a place of worship to pray for safe travels when the king would go on a pilgrimage around the country. In the back is a forest called an "Utaki" which is a sanctuary in the faith of the Ryukyu Kingdom.
Basic information
Address

903-0816

1-7 Mawashi-cho Shuri Naha Okinawa In Shuri Park

TEL

098-917-3501

Municipal cultural property division of Naha city

Close day

None

Charge

Free

Parking

Toll parking

Access information

Take the "Yui Rail" from Naha Airport. Get off at Shuri station. A 10-minute walk away.
Take city bus line number (1, or 17), or the bus line number 46, and get off at the Shurijo-kouen Iriguchi bus stop. Arriving at Shurei-mon gate after about a 5 minute walk.
Take the Shurijo Shitamachi number 8 bus and get off at Shurijo-mae bus stop, and arrive in front of the Shurei-mon gate after about a 1 minute walk.
Take the number 9, or number 25 city bus line, and get off at the Yamakawa bus stop. About a 15-minute walk to arrive at the Shurei-mon gate.
Additional Information
Barrier-free

車イス駐車場

車イス貸出

Academic information

A World Heritage designated date:Feburuary, 2000
Cultural property(National designated architecture) Designated date: May 15, 1972
Sonohyan-utaki Stone Gate is located behind the Shurei-mon Gate. If you face the Kankai-mon Gate at Shuri Castle, it is on the left side. The stone gate corresponds to an offering hall at a shrine, and the hill behind the stone gate used to have a shrine. When kings set out for a journey, he made a prayer at this utaki for safe travels. Also, Sonohyan-utaki was the first place of worship to stop by on their way to "Uaraui, (inauguration ceremony for a new kikoe-okimi (top-ranking priestess)."
In 1519, King Sho Shin ordered Nishito from Taketomi Island, Yaeyama to construct this stone gate. Except for a wooden door, the gate was built mainly of Ryukyu limestone but with a cresting of fine-grained sandstone. This structure type is called "Hirakaramon." There is no arch, but a rectangular lintel stone was curved around its middle part to make it look like an arch. Although the eaves are made of stone, they have protruding rafters. The roof design represents a roof thatched with wooden boards. Both gables of the roof keep the Japanese style through to the eave's ends. The Chinese element is also seen in that the cresting along the ridge of the roof has shibi, roof tile on both ends, with a flaming gem at the center. Viewed from the air, one sees stone walls on both sides gradually narrow toward the center, and the floor has tiny mounds at the center, which is an innovation to create an optical illusion when seen from a distance.
Sonohyan-utaki Stone Gate was destroyed during the Battle of Okinawa, in 1945; however, the Ryukyu Government reconstructed it with use of travertine. But later the stone gate displayed cracks. Over 5 years since 1982, the whole gate was demolished for repair work, using old materials as much as possible, renovating it with the same stone materials and construction method as the original. This reconstruction has been well-preserved to this date.

Quote

Naha Board of Education Cultural Heritage Division (2007) "Naha Cultural Property" Naha Board of Education