Amorushi-ga Spring
Historic sites
History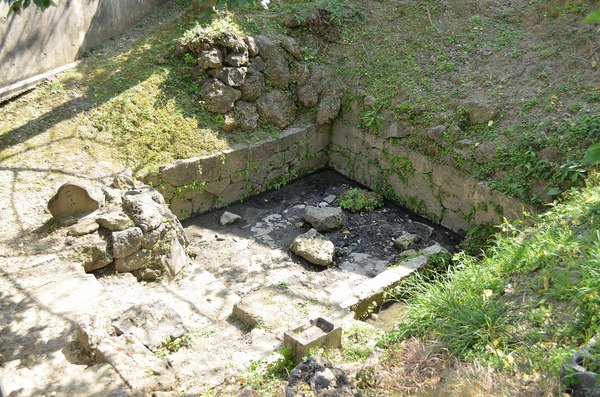 There once were 18 springs in Aza-Oroku, most of which were destroyed during the Battle of Okinawa. Amorushi-ga is one of few springs which still remains the same shape of the communal well as before the war.
Basic information
Address

901-0152

628 Oroku Naha Okinawa

TEL

098-917-3501 (English is not supported)

Municipal cultural property division of Naha city

Business hours

Nothing in particular

Close day

Nothing in particular

Charge

Free

Parking

None

Access information

A 2-minute walk from the Oroku Jijikai-mae bus stop.
Additional Information
Academic information

Cultural property(Municipal designated historical site)
Designated date: February 10, 1999
There once were 18 springs in Aza-Oroku, most of which were destroyed during the Battle of Okinawa. Amorushi-ga is one of few springs which still remains the same shape of the communal well as before the war.
Amorushi-ga is located to the south of the community, one level lower than the surrounding terrain. There once was a slope area from Menu-utaki to Amorushi-ga, where terraced fields were laid out. The place where water springs out is rectangular-shaped, dug vertically, and the inside was piled with big stones in Nuno-zumi style, where most of the stones are roughly the same size so that they line up across the face of the wall. On top of that, earth retaining stones are piled with Aikata-zumi style, where piles of stones are cut into polygonal shapes prior to fitting. In front of the washing area at the well, stones are paved, which are surrounded by big stones. The entrance to the spring has stairs due to its hollow construction.
Before the war, Amorushi-ga had good quality water that was abundant. So during the drought, people not only from Aza-oroku but also from Aza-uehara came here to get water.
Since ancient times, water has been treated with respect. Water has played an important role in annual events and ceremonies in people's lives. For that reason, Amorushi-ga is a valuable historic site to learn about rural lives in the past.

Quote

Naha Board of Education Cultural Heritage Division (2007) "Naha Cultural Property" Naha Board of Education