Naha Cherry Blossom Festival
Event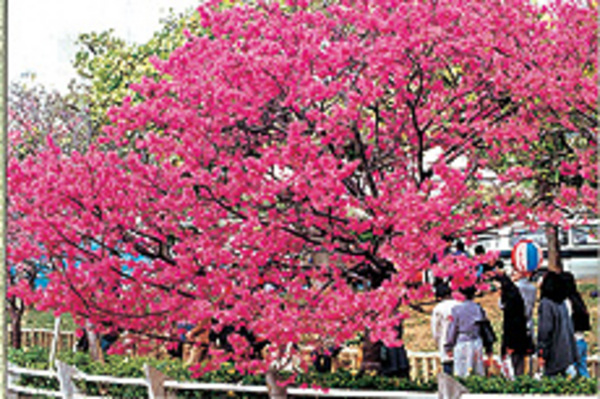 The event is held at Yogi Park, in Naha, timed with the blossoming of the cherry trees in the park, where you can experience the coming of spring. Okinawa's cherry trees are a precocious type, called "Hikanzakura (Taiwan cherry)," and from the end of January until mid-February will be in full bloom. They begin to bloom in the order of North to South, which is the exact opposite of the Someiyoshino (Prunus yedoensis or Yoshino cherry) cherry trees of mainland Japan and is one of the attractive points to see. There are about 400 Hikan cherry trees planted in Yogi Park. The cherry trees along the river when in full bloom, are a beautiful sight to see. Exhibition and sales of flowers, trees, and plants, such as fruit, are held, and seedlings are prepared as a present. Also, horticulture consultation is available, so why not attend a lecture on gardening. On the special stage, hula dancing and folk music show is a must-see.
Basic information
Address

902-0076

1-1 Yogi Naha Okinawa Yogi Park

TEL

098-855-2552

Okinawa Flower and Tree Production Association

Business hours

Mid-February

Charge

Free

Parking

None

Access information

From the Naha Bus Terminal,
No. 89 Itoman bus line,
Yogi crossroads (Yogi-jujiro) bus stop.
A 1-minute walk away.